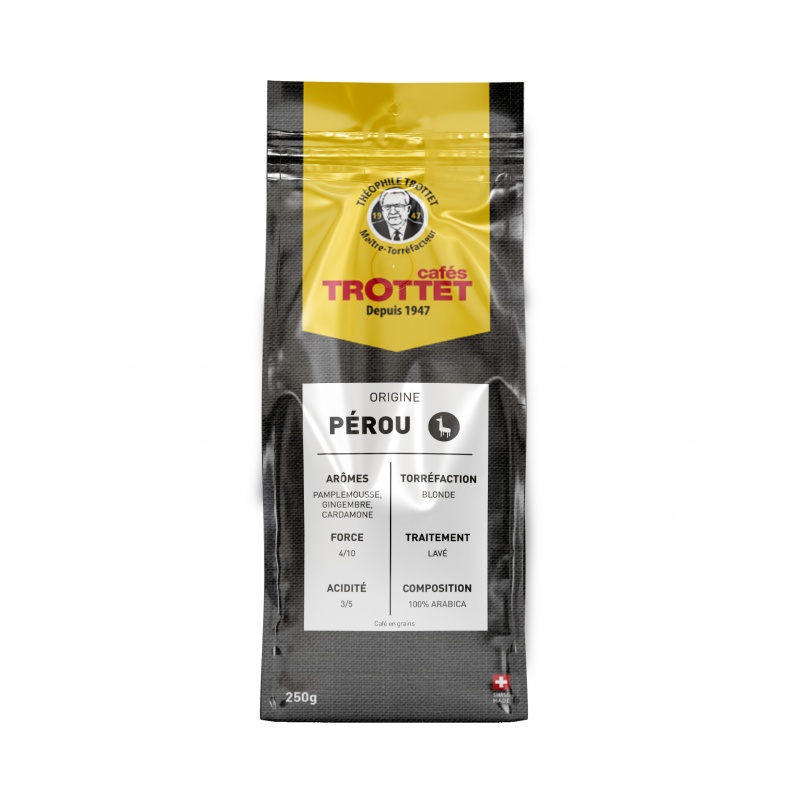  
Peru Coffeebeans 250G
Aromas of grapefruit, ginger

100% Arabica

Strength 4/10

Roasted for expresso and filter
Coffee from Peru is known for its aromas of grapefruit and ginger, which give it a unique and delicious taste. It is 100% Arabica, which guarantees finesse and flavor. With a strength of 4 out of 10, this is a light coffee, suitable for those who prefer a less strong drink. It is very aromatic and is part of the Single Origin range, which brings together coffees grown in a single region, thus providing homogeneity and specificity of taste.
Coffee from Peru is grown in mountainous regions, where climatic conditions and nutrient-rich soils contribute to its unique and complex taste. Grapefruit and ginger aromas combine to create a delicious combination that will please the most discerning coffee lover. It offers a freshness on the palate, a very fruity taste and a harmonious character that make it a highly appreciated coffee. In summary, coffee from Peru is an ideal choice for coffee lovers looking for an aromatic, fresh and harmonious tasting experience with aromas of grapefruit and ginger.
| | |
| --- | --- |
| Tasting note | A very aromatic coffee with a nice freshness. The palate is initially fruity on notes of grapefruit. Notes of cardamom and ginger on the finish. |
| Character | Fruity, spicy |
| Aromas | Grapefruit, ginger and cardamom |
| Roasting | Blond - Expresso and filter |
| Strength | 4 |
| Acidity | 3/5 |
| Origin | Peru |
| Composition | 100% arabica (catimor, caturra, typica et pache) |
| Process | Washed |
| Conditioning | 250G |
| Preparation methods | Espresso: 7 to 8g of coffee Filter: 30 to 50g of coffee |
| Made in | Switzerland |
By
Bour M.
on 22 July 2021
(

Peru Coffeebeans 250G

)
:
By
Christian W.
on 01 Apr. 2021
(

Peru Coffeebeans 250G

)
:
Pérou 250 gr avis de nos collaborateurs
Café très apprécié et un arôme délicieux
By
Nikola C.
on 25 March 2021
(

Peru Coffeebeans 250G

)
:
Excellent
Le café dans toute sa splendeur, rien à voir avec les produits trouvés dans le commerce.
By
Tobias H.
on 18 Feb. 2021
(

Peru Coffeebeans 250G

)
:
Bien, moyenne torréfaction, mais pas des arômes particulières
Plutôt bien. Malheureusement, je ne perçois pas les arômes. Mais c'est un café à torréfaction moyenne qui plaît.
By
Alexandre B.
on 08 Dec. 2020
(

Peru Coffeebeans 250G

)
:
agréable en bouche
Très bon café, à du caractère sans être trop amer !