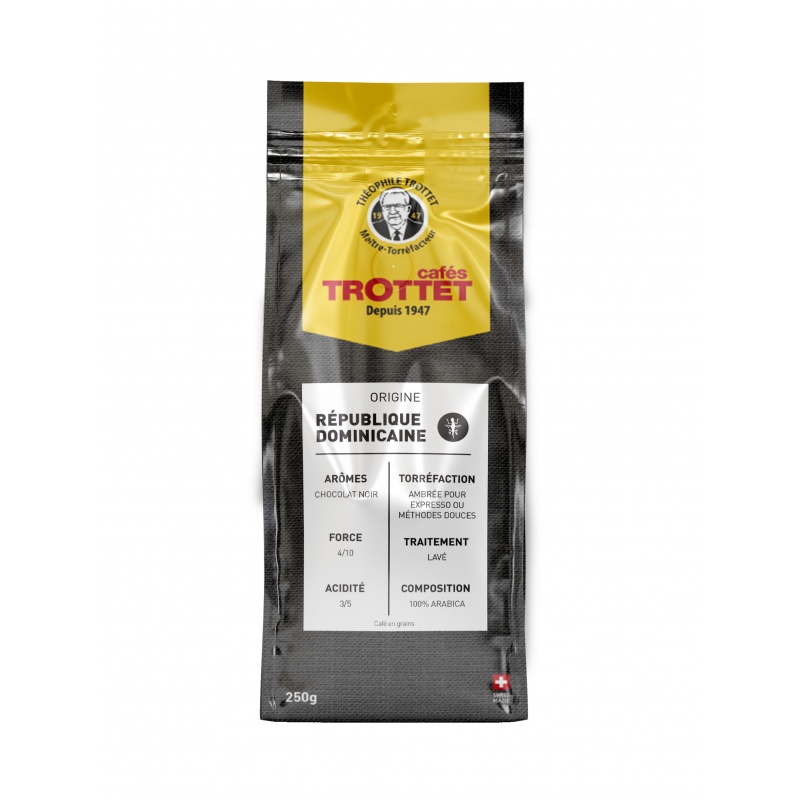  
Dominican Republic 250G
Dark chocolate aromas

100% Arabica

Strength 4/10

Roasted for espresso and filter
Dominican Republic coffee has a rich and exciting history, dating back to the 1700s when Spanish settlers began cultivating coffee in the region. Since then, it has become one of the main agricultural products of the Dominican Republic, with production constantly increasing over the years.
Dominican Republic coffee is known for its dark chocolate aromas, which give it a unique and delicious taste. It is also 100% Arabica, guaranteeing finesse and an absence of bitterness in the taste. It is often blended with other Arabica coffees to achieve an even more complex flavor. Dominican Republic coffee trees are grown in mountainous regions, where climatic conditions and nutrient-rich soils contribute to its unique and complex taste.
In summary, Dominican Republic coffee is an ideal choice for coffee lovers looking for a tasting experience rich in dark chocolate aromas.
| | |
| --- | --- |
| Character | Suave |
| Aromas | Chocolat noir |
| Roasting | Amber - Expresso and filter |
| Strength | 4 |
| Acidity | 3/5 |
| Origin | Dominican Republic |
| Composition | 100% Arabica - Bourbon, Mundo Nuovo, Caturra, Catuai |
| Process | Washed |
| Conditioning | 250G |
| Preparation methods | Espresso: 7 to 8g of coffee Filter: 30 to 50g of coffee |
| Made in | Switzerland |