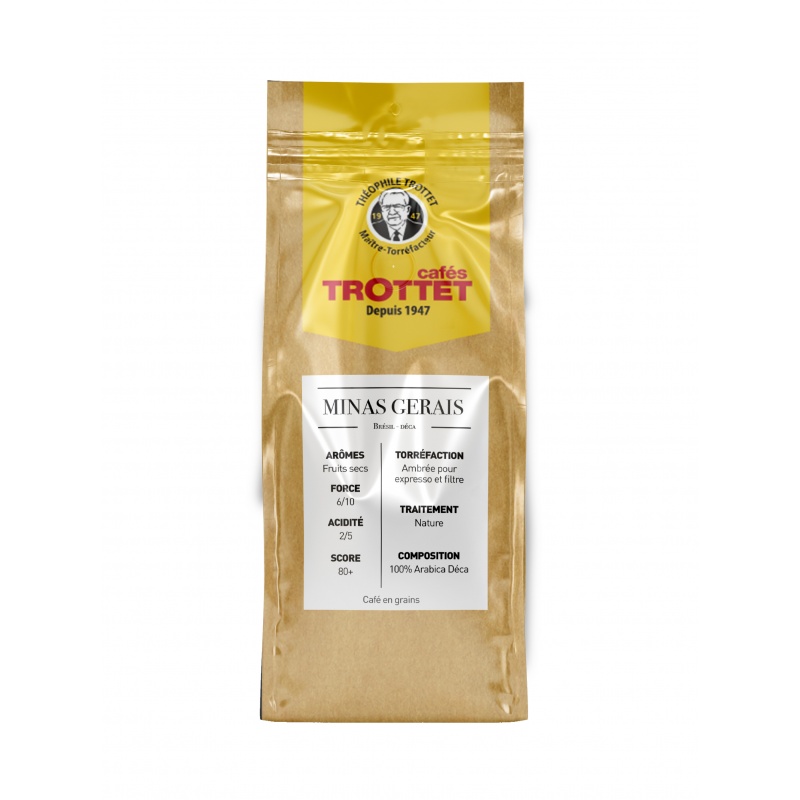  
Brazil Minas Gerais Decaf 250G
Aromas of dried fruits

100% decaffeinated Arabica

Strength 3/10

Score 80+

Roasted for expresso and slowcoffee

☕

 

filter : 30 to 50g of coffee for 300ml of water
The water decaffeination method is a natural process that does not use any chemical substance. This method gives coffees with organoleptic characteristics capable of satisfying the most demanding palates because they retain the complexity and the corpulence of a non decaffeinated coffee.
The general principle of water decaffeination is simple. The green coffee beans are immersed in water baths containing the same aromatic components as those contained in the coffee bean, except for caffeine.
According to the principle of osmosis, and under certain conditions of temperature and pressure, the water bath will rebalance. In fact, 50% of the caffeine will pass into the water bath and 50% will remain in the coffee bean.
The decaffeination method used for our selection is a unique process developed by our Mexican partner Mountain Water Process, which created a filter to trap the caffeine present in the water used for decaffeination. After this filtration, this water "loaded with flavor precursors" is used for decaffeination. By this principle, osmosis is limited to caffeine, which allows the aromatic profile of treated coffees to be preserved.
Once the extraction process is complete, the grains are dried and packaged in 69 kg bags, ready for export.
| | |
| --- | --- |
| Character | Gourmet and fruity |
| Aromas | Dried fruit |
| Roasting | Amber - Expresso and filter |
| Strength | 6 |
| Acidity | 2/5 |
| Origin | Brazil |
| Coffee farmer | Multiple small producers |
| Composition | 100% Arabica blend |
| Process | Natural |
| Humidity | Moutain water decaf process. Without solvents. |
| Score | 80 |
| Features | Décaféiné |
| Conditioning | 250G |
| Preparation methods | Espresso: 7 to 8g of coffee Filter: 30 to 50g of coffee |
| Made in | Switzerland |