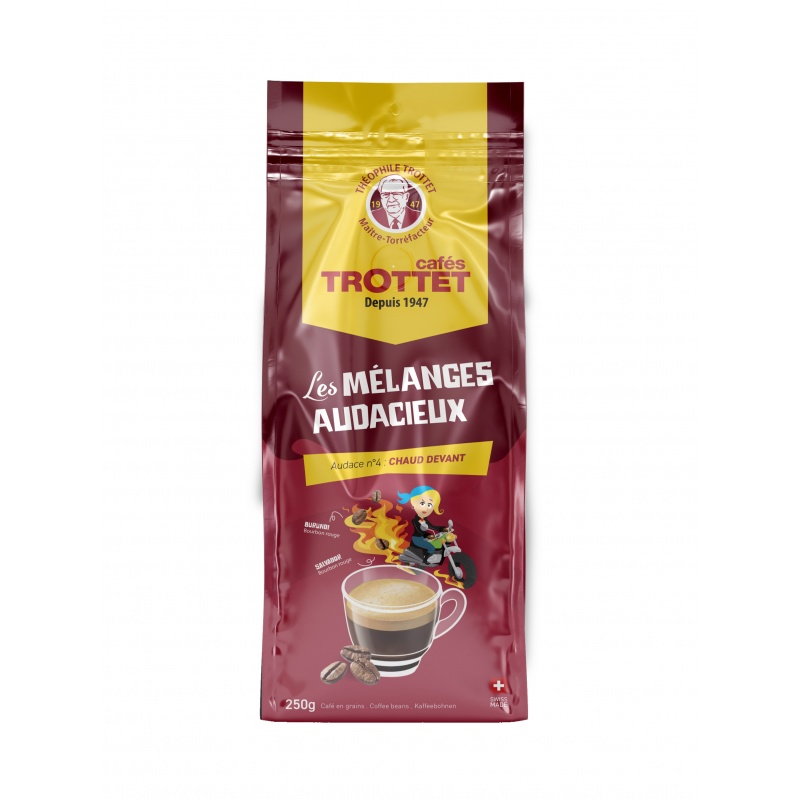  
Chaud Devant 250G
What Merlot is to wine, red Bourbon is not to coffee...
Aromas of lemon, caramel, honey

Strength 6/10

100% Red Bourbon Arabicas from El Salvador and Guatemala

Roasted for espresso
A mixture as ardent as it is unctuous, with a creamy finish, prolonged by a slight acidity. For this recipe, our master roaster has chosen two varieties of Bourbon Rouge, renowned for their roundness and slight acidity:
Bourbon red from El Salvador, at Las Mananitas
Red bourbon from Guatemala, in Huehuetenango
For this blend, our master roaster wanted to highlight botanical varieties. What Merlot is to wine, red Bourbon is to coffee.
Audacity No. 3 Botanical Varieties highlighted different varieties on the same terroir, the same plantation. Like, audacity n°4 highlights the same variety produced in countries of different origins.
The red Bourbon from El Potala in El Salvador has a very fruity profile, a nice freshness with gourmet notes. The red Bourbon from Huehuetenango in Guatemala has a more indulgent profile with notes of green apple on the finish.
A blend of flavors with a dark roast to accentuate that incredible length in the mouth.
| | |
| --- | --- |
| Tasting note | A mixture as ardent as it is creamy, with gourmet and suave notes of lemon, caramel and honey. |
| Character | Gourmand |
| Aromas | Lemon, caramel and honey |
| Roasting | Deep roasting - Expresso |
| Strength | 6 |
| Acidity | 3/5 |
| Origin | Guatemala Salvador |
| Production region | El Potala, Huehuetenango |
| Coffee farmer | Francisco & Pedro Jacinto, Gustavo Alfonso |
| Altitude | 1000m - 1800m |
| Type of soil | Volcanic |
| Composition | Red bourbons from Guatemala and Salvador |
| Variety | Red bourbon |
| Process | Washed |
| Score | 85 |
| Features | Specialty Coffee |
| Conditioning | 250G |
| Made in | Switzerland |