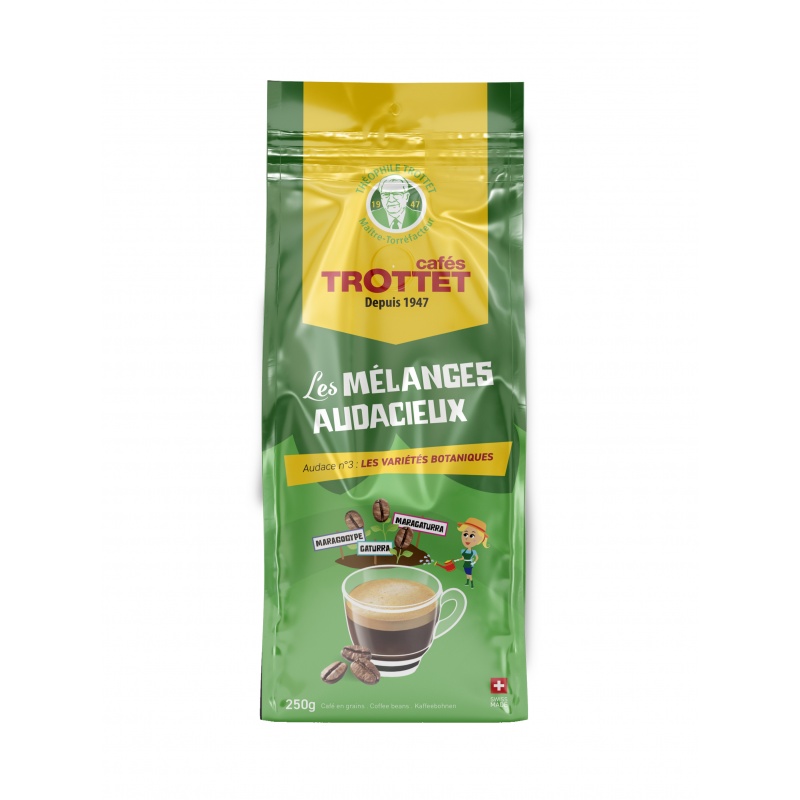  
The Bold Blends 250G
The Botanical Varieties are made up of 3 varieties grown on the same farm at Enrique Ferrufino.
Aromas of forest fruits, hazelnuts

Strength 4/10

100% Arabica from Enrique Ferrufino

Roasted for espresso and filter
This brand new audacity, the Botanical Varieties, created by our master roaster, allows you to discover three varieties of coffee grown on the same farm belonging to the Ferrufino family.
The Ferrufino family created their coffee business in 1992 to acquire the Aurora farm, also called "Finca Aurora" in 2004. It is a family farm in which each member of the family acts with operating methods to local ecosystem . Aurora Farm coffees are rated SHG EP. Currently managed by Dr. Enrique Ferrufino, the family farm is located in the Matagalpa region between 1,200 and 1,400 meters above sea level. The harvests are carried out between December to March each year.
For the mixture of botanical varieties, our master roaster has chosen to honor 3 main varieties of the farm: Obata honey, Villa Sarchi Lavé and Caturra Lavé. These three different varieties come in opposition in terms of taste to offer a perfect balance in the mouth.
Dr. Enrique Ferrufino, a surgeon by trade, was born and raised on a coffee farm in the mountains of Matagalpa in 1956. Together with his wife Silvia, a pediatrician, the Ferrufino family decided to enter the coffee business in 1992 and bought Finca Aurora 12 years later. They instilled a love of coffee in their three children from an early age. Since acquiring Finca Aurora, the whole family has worked together to produce excellent coffee.
One of the company's core values is to inspire people through coffee. Over the years, they have invested in providing workers with fair wages, safe living conditions, health services, food and education. They also work with small producers in the region to help them improve their farming practices.
The preservation of nature is a top priority for the Ferrufino family. They use only renewable energy and work diligently to conserve water resources and natural habitats. The farm is home to a variety of native trees, home to many species of birds and wildlife. These trees also provide shade for planting and fertilize the soil with organic matter, which protects the land from erosion, droughts and floods.
After selective manual picking, the cherry is pulped on an eco-pulper and left to dry on raised beds or terraces. Finca Aurora is one of the first farms in Nicaragua with a fully integrated coffee operation on site. They produce, wash and dry the coffee on the farm. The coffee is ground, sorted and bagged at Beneficio Finca Aurora under the watchful eye of the farm team. This allows full quality control throughout the process.
| | |
| --- | --- |
| Tasting note | A gourmet blend with pleasant vivacity, with notes of forest fruits and hazelnuts. |
| Character | Lively, greedy |
| Aromas | Forest fruits, hazelnuts |
| Roasting | Amber - Expresso and filter |
| Strength | 4 |
| Acidity | 4/5 |
| Origin | Nicaragua |
| Production region | Matagalpa |
| Coffee plantation | Finca Aurora |
| Coffee farmer | Finca Aurora |
| Altitude | 1200-1400m |
| Type of soil | sandy |
| Area of the farm | 215 ha |
| Composition | Honey Obata, Villa sarchi lavé, Caturra Lavé |
| Process | Washed |
| Score | 85+ |
| Features | Specialty Coffee |
| Conditioning | 250G |
| Made in | Switzerland |