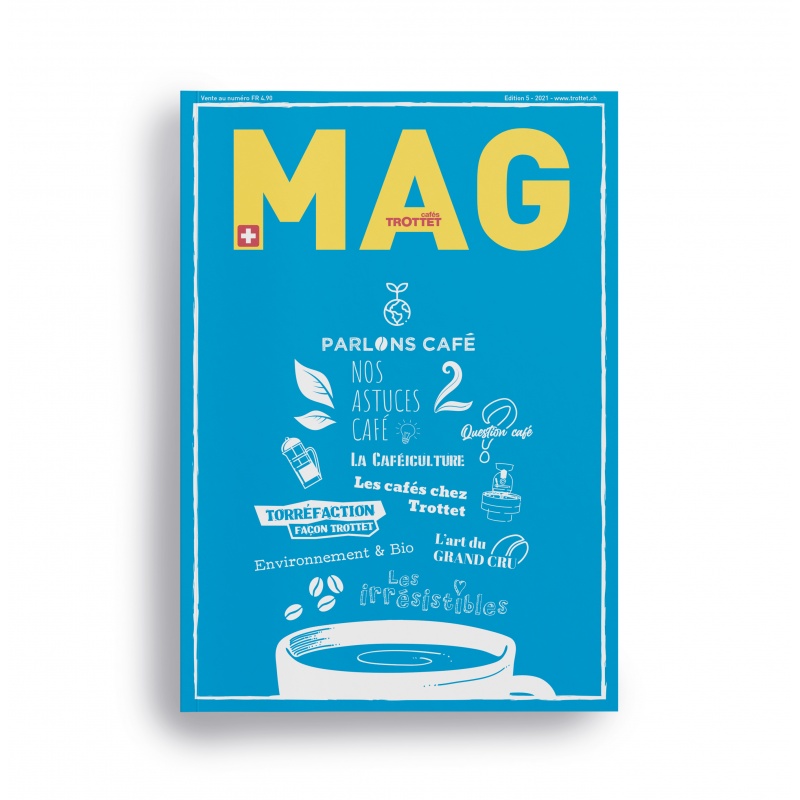  
Magazine Edition August 2021
Magazine dedicated to coffee

The history of coffee

Specialty coffee & organic coffee

Secrets of coffee & roasting

Irresistible recipes
Discover the brand new edition of the TROTTET Magazine for August 2021!
Discover all the news and history of coffee.
Without further ado, the summary of our new edition:
Environment & Bio
Appearance of coffee in the continents
Micro-lot coffee
Perfect climate for coffee
The future of the coffee tree
Coffee development at Carole
The art of Grand Cru
Catuai
Grand Cru Coffee
Specialty Coffee Producer
Sigri Estate
The coffee score
Cafe Caracolis
China coffee
Coffee growing
What is a coffee importer?
The profession of coffee exporter
Coffee harvest
Coffee decoction
Coffee sieve
Coffee Tips
Reduce the acidity of coffee
How to sweeten your coffee?
Filter coffee tutorial
French Press at home
Let's talk coffee
Grain size
Bourbon coffee
Chicory
Cafe Americano
Arabica coffee
Coffee facts
What is an espresso?
Hybrid coffee
Coffee roasting Trottet
Roast the body of the coffee
Roasting secrets
Types of roasters
Light roasting
Roasting of our coffee ranges
Roasting curve
Coffee question?
How much caffeine in a coffee?
Manual or electric mill?
How do you create a blend of coffee?
Smooth coffee or iced coffee?
Infusion rate of espresso
Rate a coffee
What coffee in the evening?
Coffee beans or ground?
Cafés at Trottet
Our coffee ranges
The flavors of coffee, 3 exceptional coffees
The packaging of our coffee beans
The production of compatible Nespresso® * capsules
Zero Intermediate, cheaper coffee
Swiss and Local Café
The irresistibles
Coffee ice cream recipes
Frost your donuts
Viennese coffee
Cocktail in cafe
Mokaccino
Coffee with fresh cream
Almond smoothie