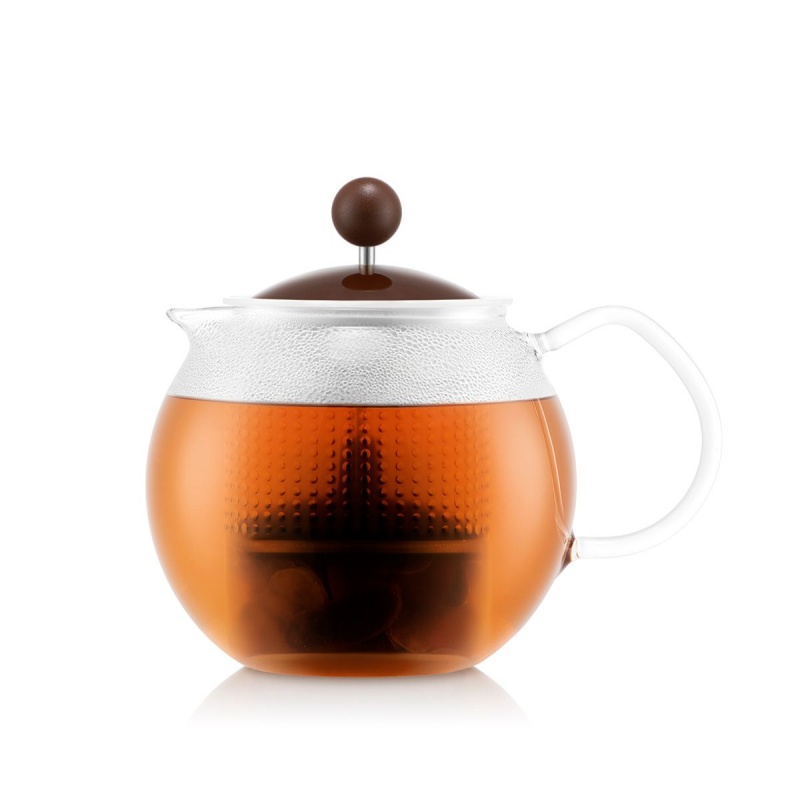  
Bodum teapot Assam 0.5L
Bodum teapot

Borosilicate glass

Resistant material

Capacity 0.5L
Discover the art of the perfect infusion with the ASSAM teapot with plunger filter. This modern glass teapot with infuser uses a plunger infusion system for a particularly authentic and invigorating tasting tea.
A stylish addition to tea lovers' homes, our teapot with filter plunger is as practical as it is pretty. Crafted from heat-resistant borosilicate glass, its clarity means you can watch as it gently infuses to your desired potency. Then simply press the plunger to stop the infusion.
Perfect for loose or bagged tea, this strainer-equipped teapot brews tea with unparalleled precision, turning the soothing art of tea preparation into a masterpiece.
Key Features and Benefits
Innovative glass teapot with plunger filter that infuses your tea to the desired level without having to remove the plunger filter.
Patented system that stops the infusion of tea once the plunger has been lowered, so that the tea is not too strong.
Made from heat-resistant borosilicate glass that won't alter or disrupt the flavor of your drink.
Clear glass teapot lets you see when your tea has reached your desired steepness
The wire silicone surround secures the strainer firmly in the teapot for precision serving and stays cool to the touch for safe removal.
A colorful plastic lid available in multiple colors to suit your tastes.
Perfect to use with loose leaf tea or tea bags.
Easy to use and clean.
Goes in the dishwasher.
Functioning
Place the ASSAM teapot with its infuser on a flat, heat-resistant and non-slip surface
Add your favorite tea leaves to the strainer. We recommend 2 to 3 spoonfuls of black tea or 3 spoonfuls of herbal tea for 1 liter of water.
Pour the hot water.
Place the lid on the pot with the plunger in the up position and let your tea steep - 3-5 minutes for a black tea or 5-10 minutes for a herbal and fruit tea.
Once your tea is at your desired strength, press down firmly on the plunger to stop the brewing process. Serve and enjoy.
Use & Precaution
Wash in warm, soapy water before first use and dry completely. Dishwasher safe.
| | |
| --- | --- |
| Height | 12.9 cm |
| Width | 16.9 cm |
| Depth | 11.9 cm |
| Volume préparation | 0.5L |
| Color | Brown |
| Type of model | Assam |
| Material | Glass Plastic Stainless steel |