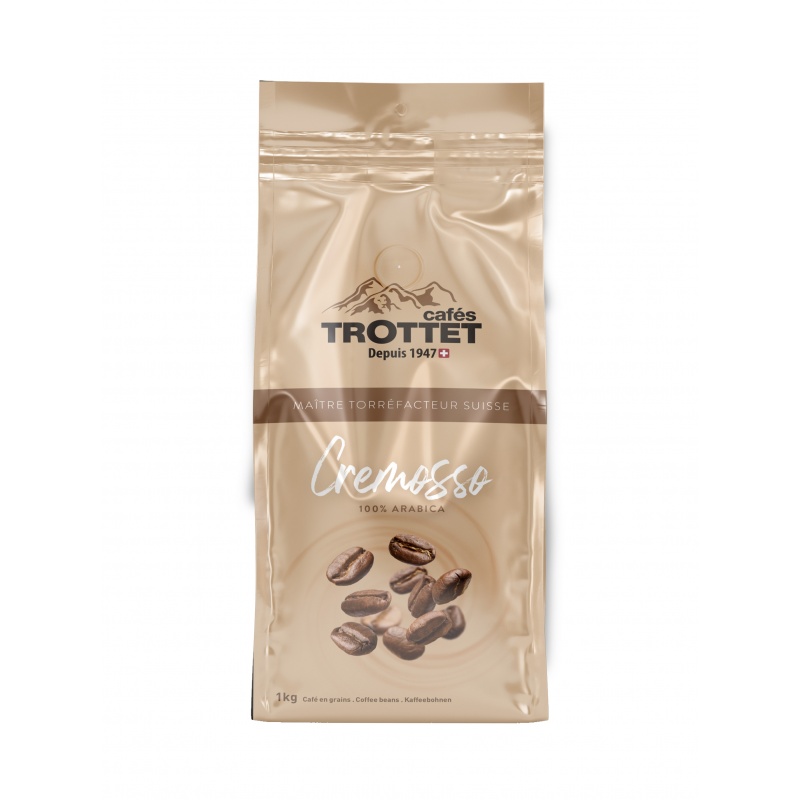  
Cremosso 1kg
Premium Cremoso coffee | a 100% arabica taste pleasure.
Aromas of spices, berries

Strength 6/10

100% Arabica from America, Africa and Asia

Roasted for espresso and filter
Premium Cremosso coffee beans are synonymous with high quality coffee, appreciated for its body and harmonious character. Its balance underlined by grains selected among the best cooperatives, offers a gustatory pleasure with each tasting. These noble arabicas coming straight from Central America, South America, Africa and Asia make it possible to obtain a noble and extremely refined blend. The superior quality of the selected beans gives the Cremosso a complex aromatic profile.
Immerse yourself in the bewitching world of Cremosso coffee, a bold and refined blend that brings together the flavors of the American, African and Asian continents. This 100% Arabica coffee invites you on an exceptional taste journey, harmoniously blending the aromas of spices and berries for an unforgettable tasting. Whether you are at home or in a restaurant, let yourself be seduced by the in-cup balance of Cremosso, ideal for espresso and filter coffee lovers.
This carefully crafted blend draws its richness from the most prestigious terroirs in the coffee world. American beans bring sweet and fruity notes, while African varieties reveal a unique aromatic complexity and subtle acidity. Asian beans, on the other hand, offer earthy and spicy nuances that complete this symphony of flavors.
Cremosso coffee stands out for its low acidity and discreet bitterness, offering a perfect balance between intensity and sweetness. Its creamy texture and generous crema will delight lovers of velvety and gourmet coffees. Delight in the finesse of this balanced coffee and savor each sip as a precious moment.
Adaptable to all extraction methods, Cremosso coffee is suitable for both espresso and filter method preparations. Its aromas of spices and berries reveal themselves fully, whatever your equipment, offering an extraordinary taste experience. This versatility makes Cremosso an ideal choice for individuals and catering professionals who want to offer their customers an exceptional coffee with exquisite flavors.
| | |
| --- | --- |
| Tasting note | a 100% arabica taste pleasure. |
| Aromas | Aromas of spices, berries |
| Roasting | Amber - Expresso and filter |
| Strength | 6 |
| Acidity | 3/5 |
| Features | Cremosso |
| Conditioning | 1 kg |
| Continent | Africa Asia Central America South America |
| Character | Harmonious |
| Made in | Switzerland |