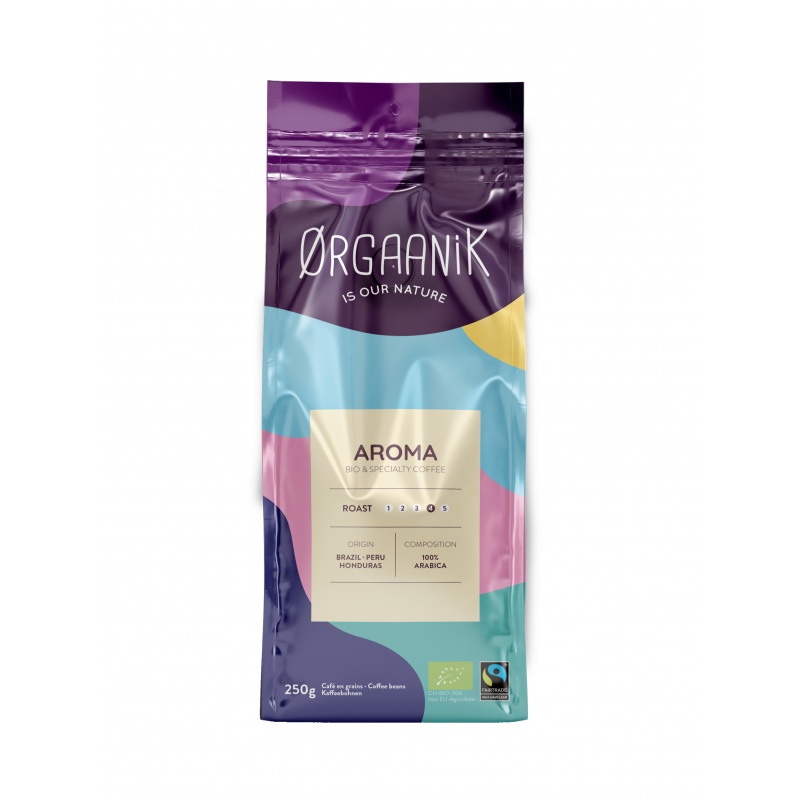  
BIO & Specialtycoffee Aroma 250G
Cooperatives identified in Brazil, Peru and Honduras
Aromas of chocolate, spices, caramel, orange

100% Arabica

Let's support a better culture of the coffee bean.
Discover the authentic coffee experience with our new AROMA coffee from the Orgaanik range. This coffee is a fusion of flavors from our partner cooperatives in Brazil, Honduras and Peru, who are committed to providing the highest quality 100% Arabica coffee. AROMA coffee is the result of extensive roasting that reveals a richness of aromas, evoking complex notes of chocolate, spices, caramel and orange. Ideal for espresso and filter coffee, this coffee promises an explosion of flavors with every sip. Our Orgaanik range is designed to support coffee cooperatives that bring together thousands of small producers. Every cup of AROMA coffee you taste helps ensure decent incomes for these producers and support their efforts to process their coffee at a lower cost. Savor the exquisite AROMA coffee and make a difference in the lives of coffee farmers.
| | |
| --- | --- |
| Aromas | Chocolate, spices, caramel, orange |
| Roasting | Dark Roast |
| Strength | 6 |
| Acidity | 2/5 |
| Origin | Brazil Honduras Peru |
| Features | Bio Fairtrade |
| Conditioning | 250G |
| Roasted for | Expresso and filter |
| Cooperative | Asscostas, Expocafe, Pérou |
| Made in | Switzerland |