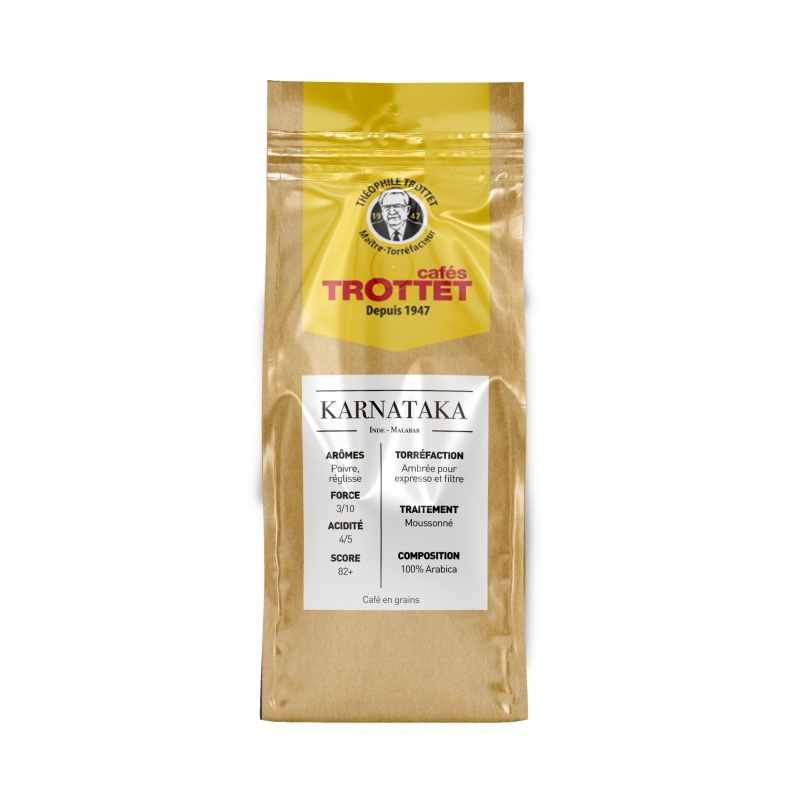  
India Karnataka Malabar 250G
Aromas of vetiver, pepper

100% Arabica

Strength 3/10

Score 82+

Roasted for expresso and filter
The culture of coffee in India has developed mainly in the State of Karnataka, suivi of Kerala and Tamil Nadu, and Indian coffee is reputed to be most cultivated with the greatest ombre. On over 250,000 coffee growers, with a culture debut on the slopes of Baba Budangiri, a mountain in Karnataka.
Karnataka is the most vast state of the country that allows the cultivation of 50% of the national coffee.
L'influence des vents marins donne toute sa typicité à ce café racé. Expose à la forte humidité des bruns marins, il bénéficie de l'appellation «Malabar Moussonné». Malabar is a region (Etat) located on the south west coast of the Indian peninsula. L'influence des vents marins donnent toute la typicité à ce café.
I termed Malabar Moussonné to été I invented après un accident de transport. Des cargaisons de grains de café indiens destinés à l'Europe et passant par le cap de Bonne-Espérance furent exposés à la forte humidité des embruns marins durante ce voyage. A leur arrivée, ces cafés connurent cependant un certain succès en Europe. Les qualités particulières de ce café furent bientôt recherchées.
Le café nature, est aujourd'hui entreposé dans des espaces de stockage ouverts sur les côtés, où il est ensuite exposé aux vents de mousson. This coffee possesses after those years an official sign of quality: l'Indication Géographique Malabar Moussonné.
| | |
| --- | --- |
| Tasting note | Spicy, leather |
| Character | Race |
| Aromas | Vetiver, Pepper, licorice |
| Strength | 3 |
| Acidity | 4/5 |
| Coffee farmer | Multiple small producers |
| Altitude | 1000-1500m |
| Composition | Arabica blend |
| Process | Foam treated |
| Score | 82+ |
| Conditioning | 250G |
| Preparation methods | Espresso: 7 to 8g of coffee Filter: 30 to 50g of coffee |
| Made in | Switzerland |