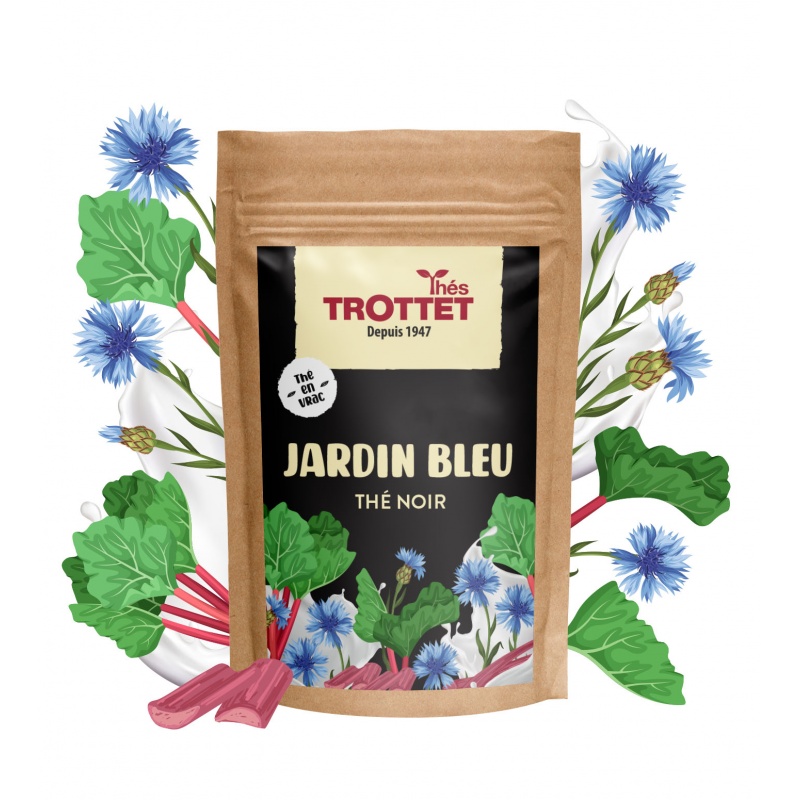  
Black Tea Blue Garden 70G
Black tea

Aromas of rhubarb, cream

Composed of black tea, aromas, cornflower petals

70G size
The blue garden is a black tea with cornflower petals, which knows how to succumb to the greatest tea lovers. This fragrant and naturally flavored blend brings to life all the natural essence of Earl Gray black tea, which became the most popular preparation in England during the 19th century.
Suggested preparation
It is naturally delicious prepared hot or cold.
Hot : Weigh 6g of tea for 30cl of water and heat the water to a maximum of 95°C. The infusion lasts between 3 to 5 minutes depending on the desired intensity.
Cold: Weigh 16g of tea for 1 liter of water at room temperature. Leave to infuse for 45 minutes, remove the leaves and place the infused tea in the fridge for 2 hours.
| | |
| --- | --- |
| Weight | 70G |
| Aromas | Rhubarb, cream |
| Tea type | Thé noir |
| Preparation temperature | 95°C |
| Volume préparation | 300ml |
| Astuce de préparation | 6g of tea for 300ml water |
| Tea class | Flavored tea |
| Flavored teas | Gluttony |
| Ingredients | Black tea, blueberry petals, natural flavors |
| What time of day | All day long |