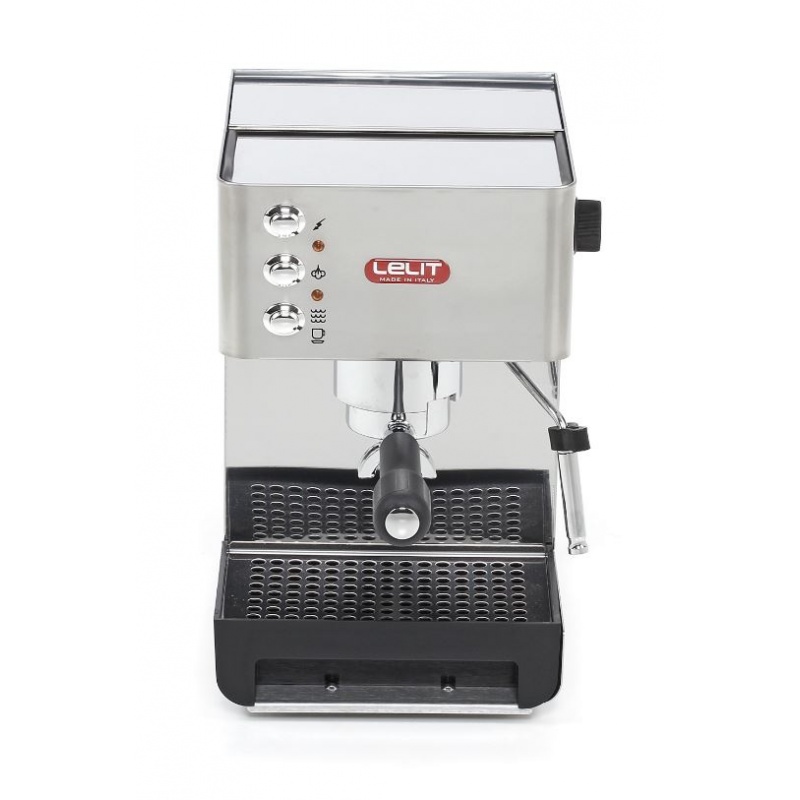  
Lelit Anna PL41E
by Lelit
We have not forgotten to introduce the LELIT PL41E. Yes, you will tell us, what are the differences between the Lelit PL41E and Lelit PL41EM? It's simple.
First, let's take a look at the qualities of this machine, starting with the quality of the machines. Machine entirely in stainless steel, classic style of an espresso machine. Note that the group and the filter holder, which go are of course supplied in the package, are made of brasses.
Brass, what is it for?
Brass is not only a highlight of the design of the PL41E. It is also helpful in maintaining and maintaining the temperature of your machine and water. So, whether it's the PL41EM, PL41TEM, PL81T, PL91T, PL62 and many more, each Lelit is made of brass to give you the best cup temperature. Good tasting !
How should I use the Lelit PL41 E?
Like the Lelit PL41 EM, the Lelit PL41E has 3 buttons to push in during your use. Your machine rises quickly in temperature. However, we recommend that you wait ten minutes for optimal use of your machine. The Lelit PL41E has a tray in which your water is emptied. This one very accessible, it facilitates you the cleaning of vote machine, internally speaking. Do you see the little nozzle aside? This is a nozzle that also allows you to produce steam and simple hot water. So whether you're a fan of a ristretto, a long coffee, a macchiatto prepared with the nozzle or an herbal tea, the Lelit PL41E provides everything you need.
Cup warmer
Yes ! It also has a cup warmer to preheat your cup before using the machine. Indeed, a creamy coffee and good temperature and especially in a cup already hot, it's better! In addition, your cup being heated, you guarantee a real balance between the temperature of the machine and your coffee. Enjoy quickly!
Let's talk about technique ...
Our machine Lelit PL41 E has a boiler, which has a capacity of 250 ml of water. It is also brass, to ensure a stable maintenance of the water temperature and also your machine. Moreover, the better your temperature is optimally controlled, the better the flow of your coffee ... little trick to be a true Barista pro with our Lelit PL41E espresso machine!
Also composed of the solenoid valve?
Yes, our Lelit PL41 E is also composed of the solenoid valve, which will be able to offer a depressurization to your filter holder when you have finished extracting your coffee. But what is it for? The depressurization will allow your filter holder to get clear of all the dirt encrusted in your filter holder after having prepared your coffee. Little more: The solenoid valve serves as protection for your pump.
Note that your Lelit PL41E Espresso machine is accompanied by its filter holder with 2 spouts 57 mm in diameter, 1 filter for a coffee cup, 1 filter for two cups at a time, and a filter ... for CAPS COFFEE DOSETTES ESE 44 mm! Yes, it is also compatible with our pods!
The only difference between the PL41EM and our PL41E is the manometer ... Our little PL41E does not have a manometer ... but there is one thing that will not change: the same quality of coffee by the cup.
Settings and functions
| | |
| --- | --- |
| Portions/day | Up to 30 |
| Tank | 2 L |
| Number of selections | 3 |
| First filter | for 1 cup |
| Second Filter | for2 cups |
| Third Filter | for ESE pods |
| Functions | Hot water |
Specifications
| | |
| --- | --- |
| Height | 34 cm |
| Width | 22.5 cm |
| Depth | 26.5 cm |
| Weight | 8 kgs |
| Power | 1050 W |