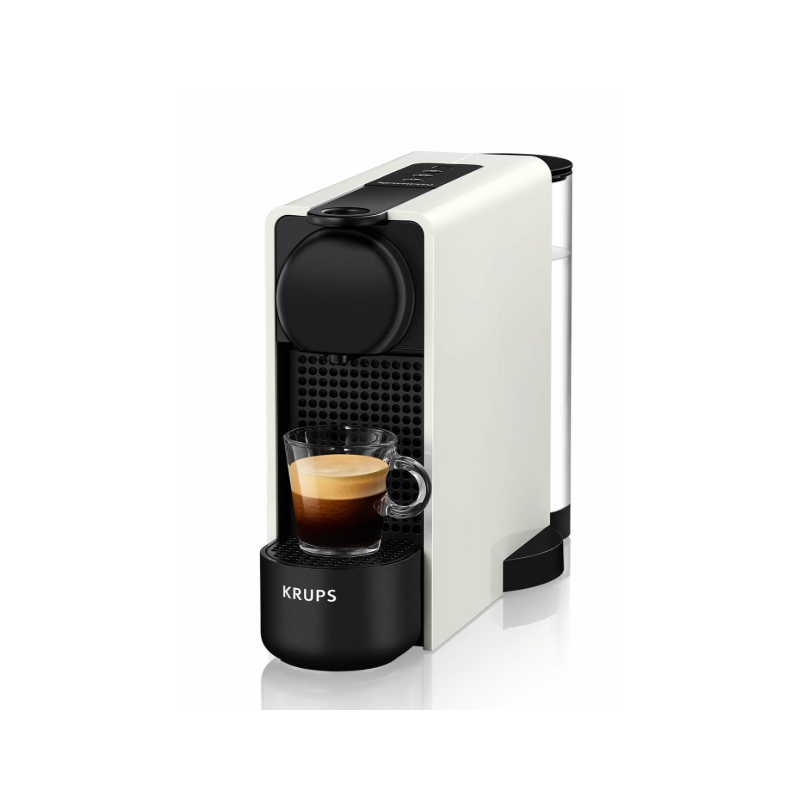  
Krups Nespresso Essenza Plus White XN5101
by Krups
Krups Nespresso Essenza Plus, we present to you.
Find excellence in compatible Nespresso®* capsule machine for even more comfort.
At home or in the office, it goes perfectly with every kitchen. You have the option of tasting espresso, lungo coffee, simple americano, and you also have the hot water option for tea. The Krups Nespresso Essenza Plus White capsule machine intelligently tells you when it needs descaling. The coffees are espresso, lungo, americano or americano XL allow you to choose the desired coffee instantly.
At the touch of a button, run the coffee of your choice. Shortened heating time, the machine extracts a sensational coffee in less than 1 minute. The heating time is more efficient and now takes 25 seconds to go into "ready" mode.
Water reservoir ? It is completely rotary. It can stay at the back of the machine, left or right. Simply, you just have to rotate in the desired direction. So you have the opportunity to position it in the way you want in your kitchen. A little modernization!
Advanced technology: The machine with a programmable power system turns off after less than 10 minutes of inactivity. She knows intelligently whether you use it or not. Very importantly, the machine turns off automatically after 2 minutes of extraction. The final standby is done after 9 full minutes of non-use.
The pressure of the 19 bar pump will always offer you an exceptional coffee with impeccable quality for every cup.
Settings and functions
| | |
| --- | --- |
| Portions/day | Up to 15 |
| Tank | 1 L |
| Waste container | 11 |
| Number of selections | 5 |
| Functions | Adjustable amount of water Hot water Programmable shutdown time |
Specifications
| | |
| --- | --- |
| Height | 239 mm |
| Width | 134 mm |
| Depth | 420 mm |
| Weight | 3.6 kg |
| Voltage | 230 V |
| Color | White |