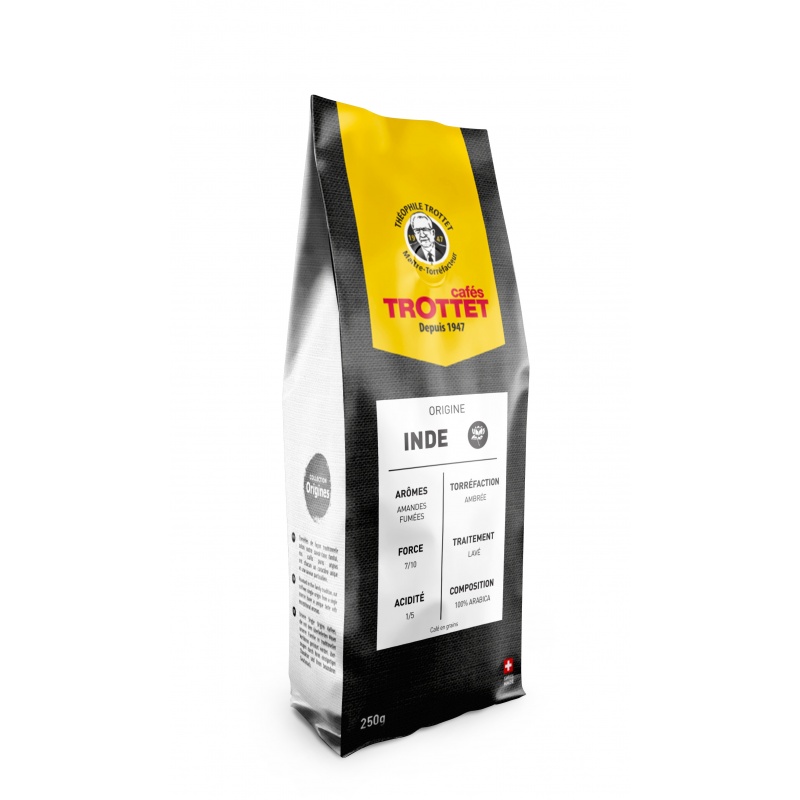  
India Arabica Coffeebeans 250G
Discover India Arabica for the finest palates. 100% Arabica coffee, the land of production is Karnataka, it is the main state dedicated to the cultivation of coffee beans in the country.
India 100% Arabica is especially recommended in espresso in order to develop the slight touch of acidity with an invaluable sweetness. We apply a very slow roasting, at the speed of time, to develop all the rich and powerful body with incredibly delicious aromas.
The aromas raised by our Master Roaster are smoked almonds.
India mainly produces Robusta variety S, 274 or CxR. Indian Robusta is ideal for making blends for the greatest espresso lovers. Indian coffees are best known for being powerful in body, and very mild in acidity.
Two years ago, India was ranked 7th world coffee producer. The coffees are produced on very mountainous soils, which are suitable for cultivation.
Almost half of the population is committed to producing food, including coffee, tea, sugar and coffee.
| | |
| --- | --- |
| Aromas | Smoked Almonds |
| Roasting | Very light Light Blonde Amber Brown Italian |
| Strength | 7 |
| Acidity | 1/5 |
| Composition | 100% Arabica |
| Treatment | Washed |
| Conditioning | 250G |
| Made in | Switzerland |