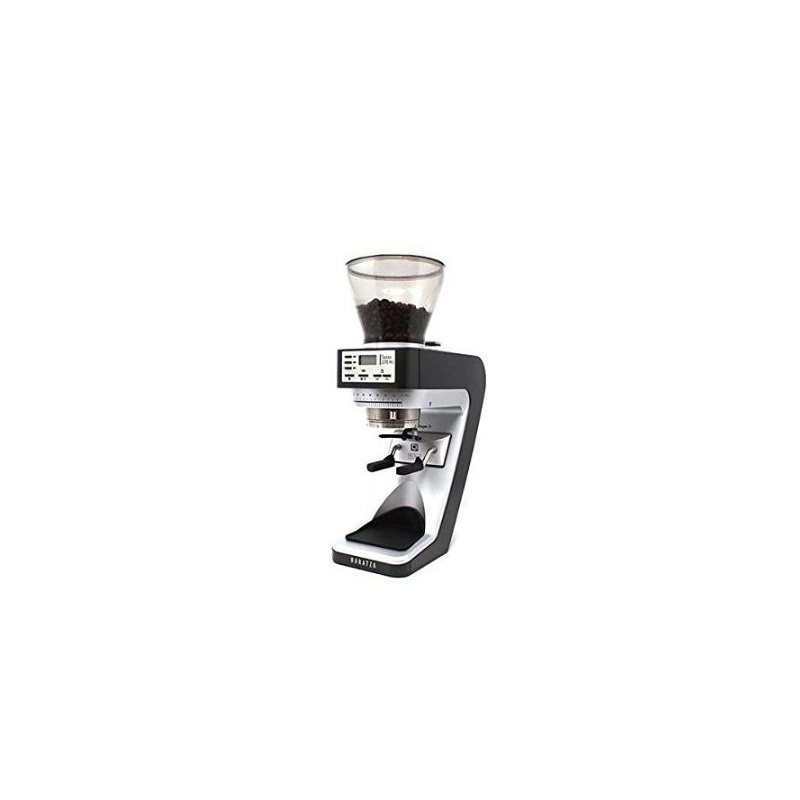  
Baratza Electric Grinder Sette 270Wi
Tapered grinding wheels
Made in Liechtenstein, the 40 mm conical grinders can grind between 3.5g and 5.5g of dry coffee, depending on the setting. These conical grinders are strong and will remain sharp for years. The adjustment mechanism aligns the grinders precisely to grind the coffee accurately.
Setting the grind
The Sette has 31 stages of macro settings that range from fine for medium grind espresso to manual infusion. A step-free micro-setting with nine indicators allows the user to accurately prepare a perfect cup of espresso. The adjustment mechanism is directly connected to the tapered grinding wheel, providing immediate and accurate grinding adjustment. The unique adjustment system gives the Sette a total of 270 careful grinding settings.
Digital control panel
The control panel with backlit LED display is user-friendly. It is possible to program three preset buttons, up to one-tenth of a gram, for a grind operation by weight. Simply press the ON button and the Sette will automatically provide accurate dosing.
Convertible device holder
A built-in convertible holder allows you to grind directly into your filter holder, in the supplied grinding tray, or in various manual brewers - an exceptional feature compared to any other household mill. The Sette's grinding receptacle is made of anti-static plastic and has a spout for easy transfer to your favorite coffee machine. The holder holds a wide variety of filter holder sizes and features a built-in hook for stability.

Baratza electric grinder Sette 270Wi what's so special about it?
The new Baratza Sette "270Wi is an in-house espresso grinder with 40mm steel cone wheels. The dosing schedules vary according to the time given to the milling and the weight of the coffee beans deposited.
The Baratza 270Wi has a dosing system based solely on the weight of the coffee. The mill also picks up the speed of the grind, intuitive settings, very simplified cleaning of the old model, which is the 270W.
The conical wheels are made of 40 mm steel with an integrated Acaia scale. The adjustment is macro and micro on 3 programmable dose settings according to the weight.
When grinding, the coffee goes down and goes directly into your filter holder without having to go through an additional recovery tank.
Settings and functions
| | |
| --- | --- |
| Beans tray | 300 G |
| Number of selections | More than 30 levels of milling |
Specifications
| | |
| --- | --- |
| Height | 40 cm |
| Width | 13 cm |
| Depth | 24 cm |
| Weight | 3.6 kilos |
| Power | 270 W |