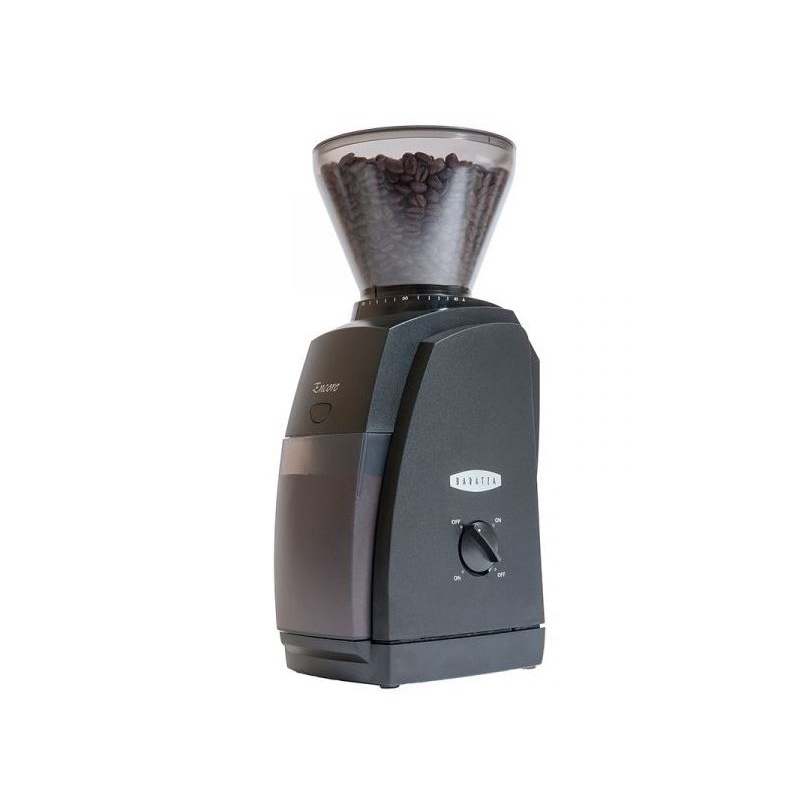  
Baratza Coffee Grinder Encore
Capacity of 150G

Conical steel grinding wheels

40 degrees of grinding
The Baratza Encore coffee grinder is equipped with over 40 degrees of grind, making it one of the most accurate grinders in the world in the price range. It is very precise for infusion methods such as V60, Chemex, Aeropress or even Siphon. Its precision is also ideal for preparing espresso. The conical grinding wheels are made of excellent steel. The bean container can receive 150G of coffee. With a grinding speed ranging from 0.8 to 1.1 g per second, the Baratza coffee grinder is an impressive grinder, as much for its quality, control as for its precision.
Settings and functions
| | |
| --- | --- |
| Coffee Beans Capacity | 150G |
Specifications
| | |
| --- | --- |
| Height | 25 cm |
| Width | 12 cm |
| Depth | 16 cm |
| Weight | 3.1 kg |
| Color | Black |
Others
Type of grain mill
Automatique à meule conique en acier
Number of coffee grinders
1 broyeur avec 40 réglages
Material
Plastic
Stainless steel
Type of mill
Electric coffee grinder
By
Matthew R.
on 02 Feb. 2021
(

Baratza Coffee Grinder Encore

)
:
Good to go
Seems fantastic! Recieved today, quickly assembled it, plugged it in (thanks Trottet for the adapter) and made a great cup of coffee! What can I can I say, straight forward, easy to use and does the job :)
By
Vincenzo B.
on 21 Oct. 2020
(

Baratza Coffee Grinder Encore

)
:
VincenzoBazzucchi
Le moulin est solide et très fonctionnel, il permet de choisir parmi 40 dimensions de moulure.
Le niveau du bruit est très acceptable.
Nettoyage rapide

L'installation est simple et se fait en peu d'étapes en suivant les instructions inclues dans la boite.
J'ai aussi reçu un adaptateur pour la prise.