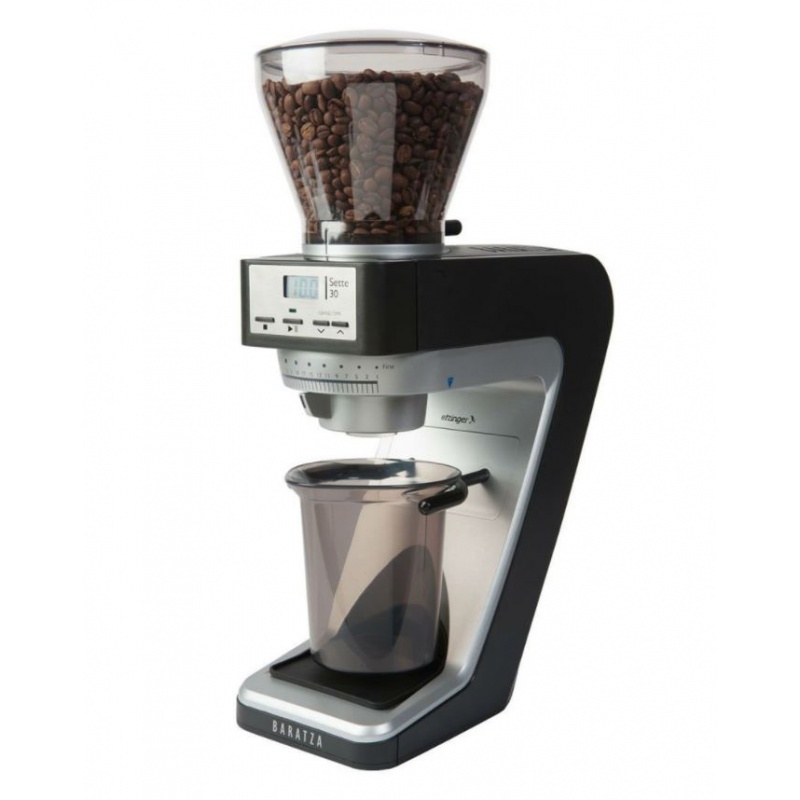  
Baratza Electric Grinder Sette 30
Capacity of 300G

Possibility of grinding 1KG

Conical grinding wheels

31 levels of grinds
The Baratza Sette 30 coffee grinder has exceptional conical burrs. Made in Liechtenstein, the 40mm conical grinders can grind between 3.5g and 5.5g of dry coffee, depending on the setting. These conical grinders are tough and will stay sharp for years to come. The adjustment mechanism allows the grinders to be precisely aligned to grind coffee with precision. The Sette offers 31 general (macro) adjustment possibilities, from a suitable grind for espresso to that for a decoction. It is then possible to adjust the setting continuously (micro), 9 indicators allow the user to prepare the perfect espresso. The macro / micro mechanism is directly connected to the conical grinding wheel which can be adjusted immediately and precisely according to your settings. The front control panel with a backlit LED display is user-friendly. Three programmable buttons allow you to adjust the amount of coffee to be ground to within 0.01 grams. Just press the START button and Sette automatically delivers the exact dose. A built-in convertible stand allows you to grind directly either in the filter holder, in the included grounds container or in most grinding devices (Hario, Clever, Able Kone) - one of the features that sets the Sette apart from all other domestic coffee grinders. The Sette grounds container is made of antistatic plastic and has a molded spout to facilitate transfer into your coffee machine. The filter holder arms are adjustable to fit the dimensions of most filter holders and have a built-in hook for added stability.
Settings and functions
| | |
| --- | --- |
| Coffee Beans Capacity | 300 G |
| Number of selections | More than 30 levels of milling |
Specifications
| | |
| --- | --- |
| Height | 40 cm |
| Width | 13 cm |
| Depth | 24 cm |
| Weight | 3.6 kg |
| Power | 270 W |
| Color | Black |
Preparation
1'000G of ground coffee possible
Others
| | |
| --- | --- |
| Body | ABS aluminum and stainless steel |
| Type of mill | Electric coffee grinder |
By
Pablo W.
on 16 Sept. 2020
(

Baratza Electric Grinder Sette 30

)
:
PabloWeber
Bon moulin pour usage domestique. Je l'utilise principalement pour faire des espressos et j'en suis très satisfait.
Très bon rapport qualité/prix.
By
Yannick B.
on 31 July 2020
(

Baratza Electric Grinder Sette 30

)
:
YannickBaumgartner
Moulin d'excellent rapport qualité prix que je recommande vivement. Seul point à relever est le bruit, que certains peuvent trouver élevé de bon matin.