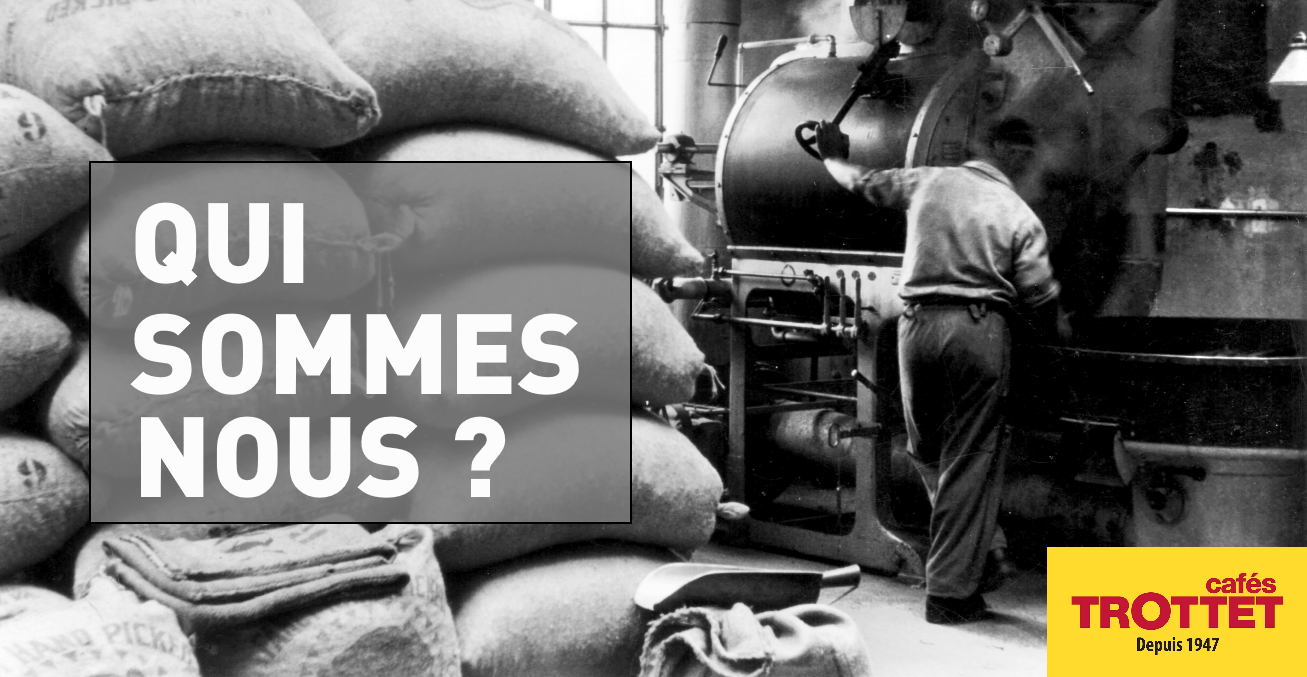 1947 The big jump
The history of Cafés Trottet begins with a simple idea from Théophile. Active in green coffee since 1932, Théophile Trottet, the creator of the company, imagines a perfectly unique blend of Grands Crus from 7 different origins to obtain unique aromas. This is where theophile Luxe's ​​most beautiful secret recipes are born: Mocca Luxe, the Italian blend and Number 7. Three coffees, three recipes secretly shared from father to son for over 70 years. Théophile sells his little coffees to local grocers at Rue Amat, in Geneva, during the following years…
1965 Gabriel's touch
Almost 20 years later, Théophile's son, ready to enter professional life, joined his father in the world of coffee. Roasting had no secrets for Gabriel. Still based at Rue Amat, the new Trottet family team is developing other coffee recipes, which are unchanged today. We find in particular the Chef's Café, Zanzibar, Viennese. Gabriel was able to bring his personal touch in addition to having learned alongside his father.
1970's coffee and machines
5 years later, Gabriel still enjoys the company. They decide together not only to sell coffee, but also coffee machines. Indeed, there was, at the time, a real craze for "home" coffee machines. Every household dreamed of having their own little coffee machine, without having to go to the local bistro. Different brands of the generation were sold by Théophile and Gabriel.
1988 We moved…
In 1988, the Trottet team saw their business increase. We will not complain ... However, due to the evolution of the districts of Geneva, roasting was difficult to exploit. Gabriel at the helm, he decides to create his own roasting plant including the entire administration team and workshop in Meyrin. Currently, the Maison du Café is still located in Meyrin. Thanks to Gabriel for installing us at Rue Emma-Kammacher 4, 1217 Meyrin. We feel good there, and the roasting days are felt in the village, thanks to the beautiful smell of cooking.
1996 Still family oriented
Gabriel Trottet is given a few tasks to a new employee…. Family. His son, François Trottet in turn took over the management of the Maison du Café. He succeeds in perpetuating the values ​​of the company by propelling it with new objectives such as the sale to the final customer, the quest for Grands Crus at the small farmer directly, by adapting to new technologies of the 21st century. Currently, Rare Coffees are products purchased from the small farmer of each producing country to have full traceability of Grands Crus. We meet, learn, discover the producer, his plantation, his terroir, his know-how, and we try, with each of our roasts, to highlight the message he wanted to convey.
1996 ESE 44mm paper pod
The creation of the Caps Cafe range, paper pods! Customers who like to diversify tastes insist on creating a coffee pod in Geneva-made paper. For them, the paper capsule made by hand a few steps from home, with coffee from a small producer is important for tasting quality coffee.
2008 The second compatible capsule
The Lavazza Espresso Point®* compatible capsule
François Trottet at the controls, he wanted to see further than coffee and coffee machines. He decides to learn more about coffee packaging machines, to have Lavazza compatible capsules. He decides to make Lavazza Espresso Point®* compatible capsules, but not only ... He decides to manufacture them himself, since his roasting in Meyrin, where Gabriel settled. François Trottet develops a whole concept for compatible capsules, very successful. The capsules called "Caps System" at Trottet Cafés have been highly appreciated by customers for over ten years. Technological innovation, unchanged recipes…
2015 The Nespresso®* compatible capsule
The craze for the Nespresso®* compatible capsule did not fail to convince François Trottet. With coffee beans, ground coffee, compatible Lavazza Espresso Point®* machines and capsules, François likes the challenge. He decided to develop his own range of Nespresso® * compatible capsules, with one detail: roasting, production and packaging meticulously carried out at our home, in Meyrin, 100%, without intermediaries. Discover roasted coffee with us, put in capsules by our teams, and delivered to your home, from our workshop in Meyrin. 100% compatible!
2019 Orgaanik
In addition to its current ranges of Blends, Origins, Specialtycoffees and Organic, Cafés Trottet gives way to the ORGAANIK range which consists of bringing together pure origins of certified organic coffee. The new range in question represents the economic, social and local values which must be respected by the producers and the rest of the chain including us, during roasting.