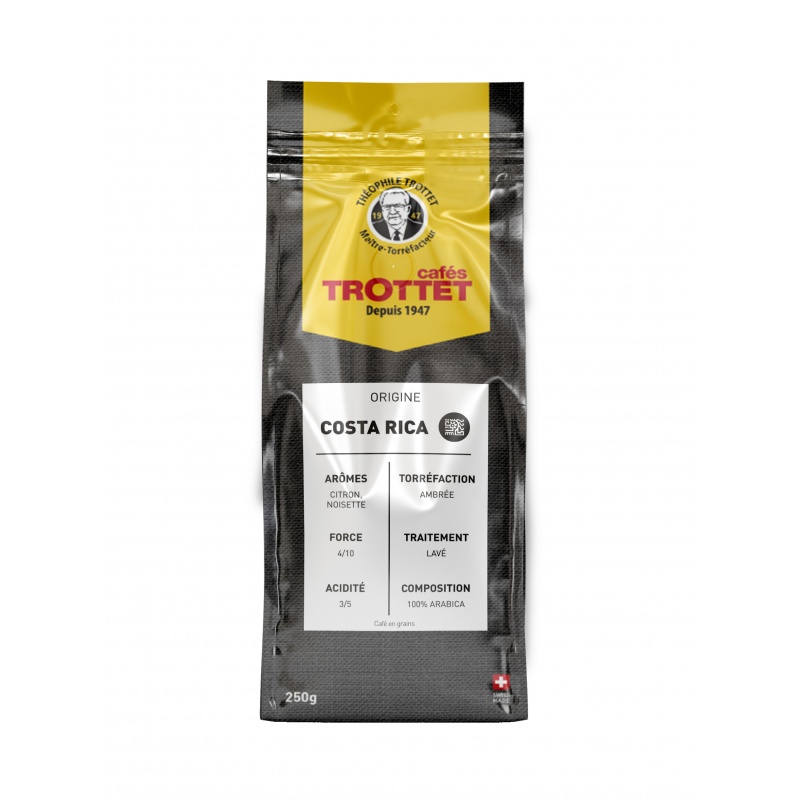  
Coffeebeans Costa Rica 250G
Lemon, hazelnut aromas

100% Arabica

Strength 4/10

Roasted for expresso and Filter
Costa Rican coffee is renowned for its lemon and nutty aromas, which give it a unique and delicious taste. It is also characterized by a strength of 4 out of 10, which makes it a light coffee, suitable for those who prefer a less strong drink. This coffee is also known for its aromatic complexity, which offers a delicious combination of lemon and hazelnut aromas, which will please the most demanding coffee lovers.
During the tasting, the attack on the palate is frank and fruity, with very gourmet notes that develop in the mouth. Lemon and hazelnut aromas blend perfectly to create an exceptional tasting experience. Costa Rican coffee is grown in mountainous regions, where climatic conditions and nutrient-rich soils contribute to its unique and complex taste.
In summary, Costa Rican coffee is an ideal choice for coffee lovers looking for a complex and aromatic tasting experience, with aromas of lemon and hazelnut. It is also an excellent option for coffee lovers looking for a light drink, with a frank and fruity attack on the palate, very gourmet notes and an exceptional character.
| | |
| --- | --- |
| Tasting note | A coffee of great aromatic complexity. A frank and fruity attack on notes of lemon, wild and exotic fruits, then the appearance of more greedy notes, praline, brioche and hazelnut. |
| Character | bright |
| Aromas | Fresh and candied fruits |
| Roasting | Amber - Expresso and filter |
| Strength | 4 |
| Acidity | 3/5 |
| Origin | Costa Rica |
| Composition | Arabica caturra 100% |
| Process | Washed |
| Conditioning | 250G |
| Preparation methods | Espresso: 7 to 8g of coffee Filter: 30 to 50g of coffee |
| Made in | Switzerland |