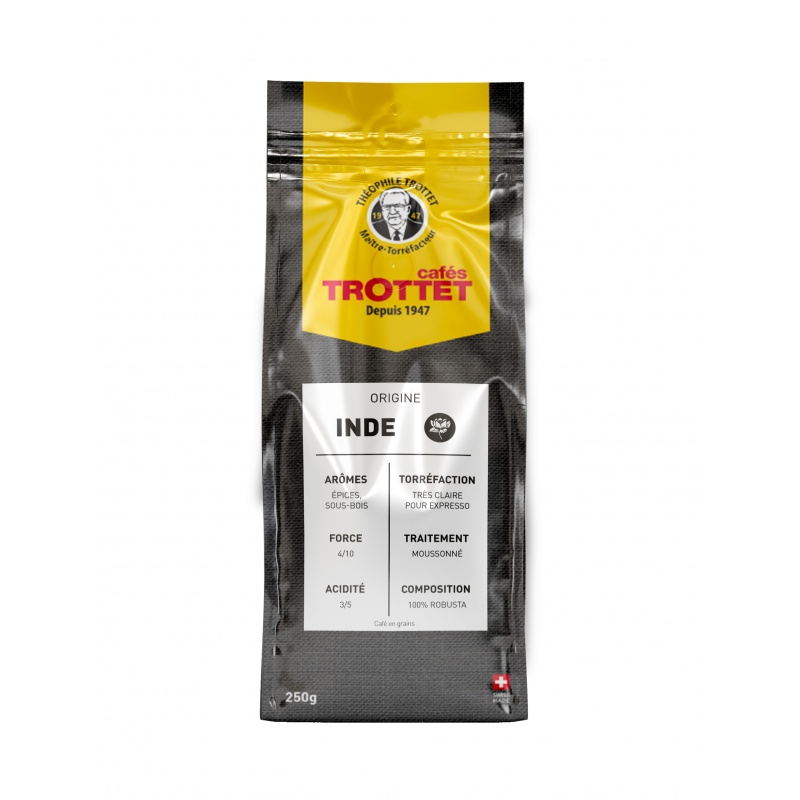  
India Robusta *light roast* 250G
Aromas of vetiver, undergrowth, spices

100% Robusta *light roast*

Strength 4/10

Roasted for espresso
Contrary to popular belief about Robusta, this pure origin 100% robusta is a very sweet blend with aromas of vetiver, undergrowth and spices. Its body is intense, with a spicy aftertaste. Less complex than a Grand Cru Arabica, nevertheless, our Pure Origin Robusta gives body and a beautiful cream to each preparation, with a greater amount of caffeine.
Robusta coffees are mainly used in roasting for espresso blends, because they provide body by reducing acidity. Our Pure Origin selection is high quality, selected according to specific regions: Malabar. It is in the heart of the Malabar region, the original region of coffee in India, that we have unearthed some of the best Robustas in the country.
Robusta coffees are popular for their bitter profile and low fruity flavor. However, grown in mountainous regions, Robusta beans benefit, just like Arabica, from climatic conditions favorable to their growth. Looking for a unique Robusta taste experience? Take a detour to our new addition to the Single Origin range: a lightly roasted Robusta with aromas of vetiver, undergrowth and spices.
| | |
| --- | --- |
| Tasting note | Delicious in expresso |
| Aromas | vetiver, undergrowth, spices |
| Roasting | Very Light Roast - Filter |
| Strength | 4 |
| Acidity | 3/5 |
| Origin | India |
| Composition | 100% Robusta |
| Process | Foam treated |
| Method of preparation | Espresso : 7-8g |
| Conditioning | 250G |
| Character | Breed |
| Made in | Switzerland |