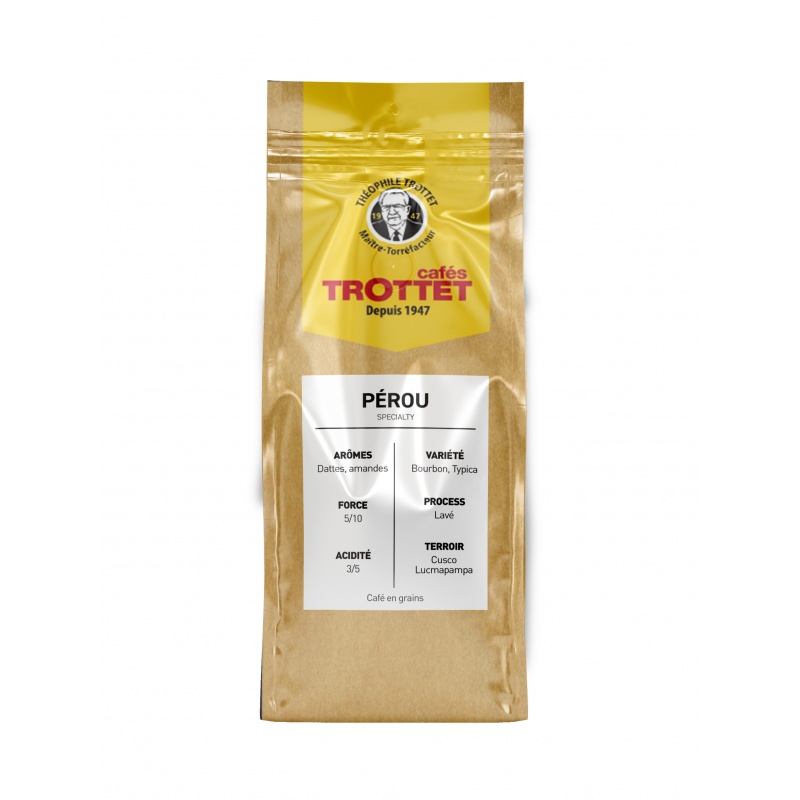  
Pérou Veronica Apaza 250G
A 100% feminine coffee with a sweet and suave profile.
Aromas of dates, almonds

Force 5/10

100% Arabica Bourbon, Typical

Cultivated by Veronica Apaza
This fully washed coffee from producer Veronica Gabon Apaza and Finca Lucmapampa in Cusco, Peru is deliciously sweet and fruity with stone fruits and berries.
Producer Veronica Gabon Apaza grows coffee at Finca Lucmapampa at Umapata in Cusco, Peru. His farm covers 4.25 hectares and is located 2,250 meters above sea level. The high elevations create warm, sunny days and cool nights that help nurture the sweet, dense cherries.
Veronica selectively handpicks ripe red cherries and processes them on her farm. She pulps the cherry on an eco-pulper and ferments it in water for 36 to 46 hours. After fermentation, she washes the parchment in clear water and dries it in parabolic dryers. Veronica rakes the parchment frequently to ensure even drying. It takes about 15-20 days for the parchment to dry. Once dry, the parchment rests in his farm for 10 days, then is transferred to the warehouses of the Valle del Inca cooperative before being transported to the dry mill and prepared for export.
Peru holds exceptional promise as a producer of high quality coffees. The country is the largest exporter of organic Arabica coffee in the world. With extremely high altitudes and fertile soils, the country's smallholder farmers also produce superb specialty coffees.
Although coffee arrived in Peru in the 1700s, very little coffee was exported until the late 1800s. Until then, most coffee produced in Peru was consumed locally. When coffee leaf rust hit Indonesia in the late 1800s, a central country for European coffee imports at the time, Europeans began to look elsewhere for their solution. Peru was a perfect option.
Between the late 1800s and World War I, European interests invested significant resources in coffee production in Peru. However, with the advent of the two world wars, England and other European powers weakened and adopted a less colonial outlook. When the British and European landowners left, their land was purchased by the government and redistributed to the locals. The Peruvian government bought back the 2 million hectares previously granted to England and distributed the land to thousands of local farmers. Many of these farmers went on to grow coffee on the land they received.
Today, Peruvian coffee producers are mostly small-scale. Peruvian farmers generally process their coffee on their own farms. Most coffees are fully washed. The cherry is usually pulped, fermented, and sun-dried on raised beds or drying racks. Drying greenhouses and parabolic beds are becoming more common as farmers turn to specialty markets.
After drying, the coffee will then be sold in parchment to the cooperative. Producers who are not members of a cooperative generally sell to an intermediary.
The remoteness of farms combined with their small size means that producers need intermediaries or cooperatives to help them get their coffee to market. Belonging to a cooperative significantly protects farmers from exploitation and can make a huge difference in coffee income. However, currently only 15-25% of smallholder farmers have joined a cooperative group.
| | |
| --- | --- |
| Tasting note | This coffee rhymes with smoothness and balance in espresso. |
| Aromas | Aromas of dates, almonds |
| Roasting | Amber - Expresso and filter |
| Strength | 5 |
| Acidity | 3/5 |
| Production region | Cusco |
| Coffee plantation | Finca Lucmapampa |
| Coffee farmer | Veronica Gabion Apaza |
| Altitude | 2250 m |
| Composition | 100% Arabica |
| Variety | Bourbon, Typica |
| Process | Washed |
| Score | 84.5+ |
| Conditioning | 250G |
| Roasted for | Expresso and filter |
| Character | Sweet |
| Made in | Switzerland |