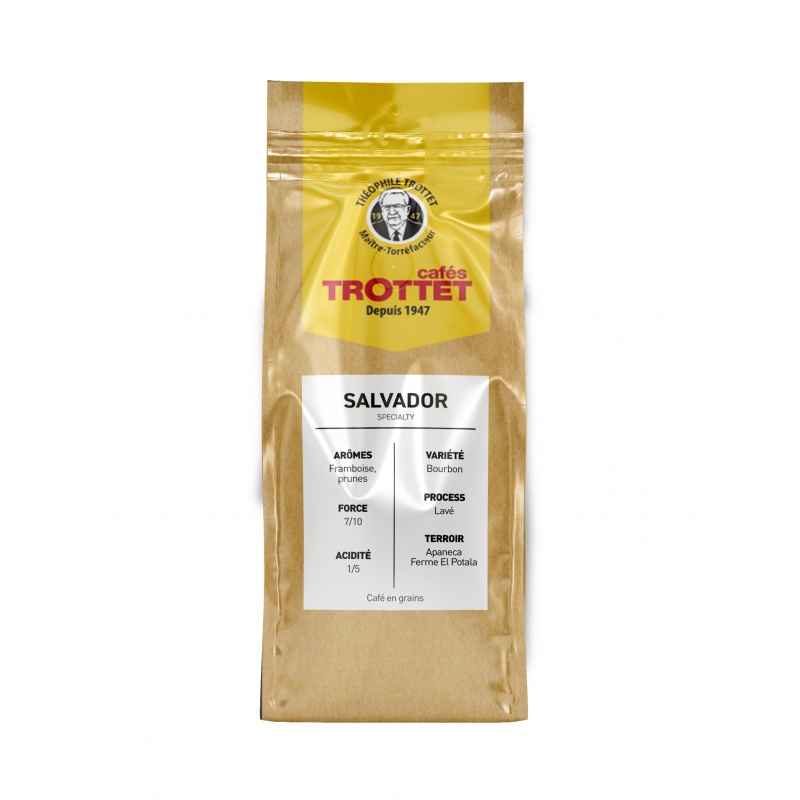  
Salvador El Potala 250G
A specialty coffee grown at an altitude of more than 1,300 m
Aromas of raspberry, plum

Strength 7/10

100% Bourbon Arabica

Cultivated by Gustavo Alfonso Jimenez
This fully washed batch of Gustavo Alfonso Cuéllar Jiménez at Finca El Potala has a balanced body that is underlined by honey sweetness and a balanced raspberry and plum flavor.
Gustavo Alfonso Cuéllar Jiménez owns and operates Finca El Potala. The farm is named after the Potala Palace, the Dalai Lama's winter palace in Tibet's Lhasa Valley. Like its namesake, Finca El Potala is located in a mountainous region and sits in the middle of the Cerro Apaneca mountains. Gustavo worked as an advisor to the Tibetan government on geothermal energy. He has also worked with the Guatemalan government on a geothermal power plant in the Apaneca/Ahuachapan region.
The Cuéllar family has been growing coffee in the Ahuachapan region for over 3 generations. Today, Gustavo continues his tradition of growing high-quality coffees at Finca El Potala.
Finca El Potala s is located 1,300 meters above sea level in Ahuachapan, El Salvador. The farm is planted with Pacas, Bourbon, Cuscatleco and Bourbon Rouge in this lot.
Coffee grows in the shade of trees. Gustavo also built a windbreak maze of tall native plants to protect the coffee trees. The farm is home to migrating birds and a multitude of other species and helps to protect and renew the soil.
The cherry is selectively picked by hand and processed on the farm. The ripe red cherry is put out to dry. The icing is raked frequently to ensure even drying.
Don't be fooled by El Salvador's small size. It was once the 4th largest coffee producer in the world and continues to produce high quality batches. The country is known for its great varieties of cupping, such as Bourbon and Pacamara. In fact, two beloved, often high-scoring varieties—Pacas and Pacamara—originate in El Salvador.
Unlike other countries, where specialty coffee production has required a lot of additional investment and training, El Salvador already has a large and skilled specialty coffee workforce. Farming traditions run deep, and many Salvadoran farmers are extremely passionate about coffee production and continually strive to improve their harvest. El Salvador has optimal conditions for processing coffee. The extended dry season usually occurs during the harvest season, which makes it easier to dry the coffee in the sun.
Although coffee production in the country has been in decline for more than two decades – exacerbated by the CLR crisis – the approach to coffee production has shifted from a volume-driven to a quality-driven approach . A new generation of coffee growers has sprung up across the country with a new vision and approach to production. Many of this generation are experimenting with processing and varietals.
| | |
| --- | --- |
| Tasting note | Complex and smooth espresso aromas |
| Aromas | Raspberry, plum |
| Roasting | Amber - Expresso and filter |
| Strength | 7 |
| Acidity | 1/5 |
| Production region | Ahuachapan |
| Coffee plantation | Finca El Potala |
| Coffee farmer | Gustavo Alfonso Cuéllar Jiménez |
| Altitude | 1'300 - 1'400 m |
| Area of the farm | 25 hectares |
| Composition | Red Bourbon |
| Process | Washed |
| Score | 85+ |
| Conditioning | 250G |
| Roasted for | Expresso and filter |
| Made in | Switzerland |