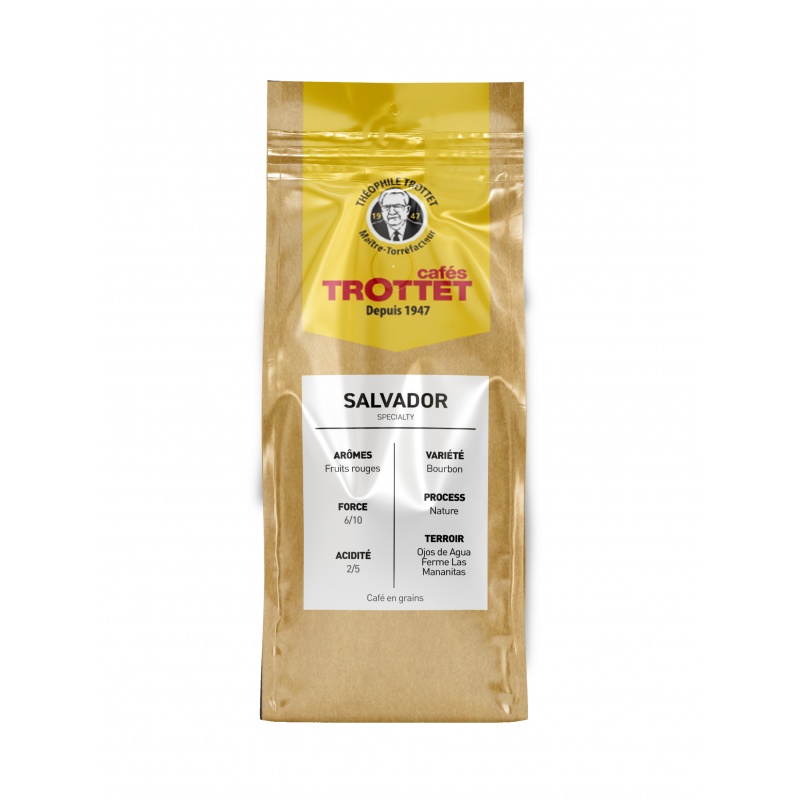  
Salvador Las Mananitas 250G
A Bourbon coffee with the Caceres family, in El Salvador
Aromas of red fruits

Strength 6/10

100% Bourbon Arabica

Cultivated by the Caceres family
Ripe berries, succulent stone fruits and a molasses sweetness make this Natural from Finca Las Mañanitas an excellent choice for single-origin offerings.
The Caceres family has been cultivating Finca Las Mañanitas for over 150 years. The current owners' great-great-great-grandfather, Fabio Morán purchased the land in the mid-1800s.
Mama Tita and Papa Ricardo, the parents of the current owner, Rosa Marta Erazo from Caceres, continued the family tradition of cultivating the land. Mama Tita was born near Finca Las Mañanitas and inherited the farm from her father, Papa Manuel. Papa Manuel was the first to plant coffee trees on the farm. Papa Ricardo, Mama Tita's husband, is well known in the family for his love of coffee culture and his dedication to his craft. "He was born with a passion to grow the best coffee," his children say. He passed away in 2010 but his children continue his legacy of growing delicious coffees.
The farm is named after the song Las Mañanitas, which is the local version of the song Happy Birthday. Nowadays, it is a tradition to often play this song on the farm.
The Santa Ana and Izalco volcanoes are visible from Finca Las Mañanitas. The volcanoes have deposited volcanic silt which provides plenty of nutrients for the coffee trees to thrive.
El Salvador is small and densely populated. Finca Las Mañanitas provides habitat for many creatures ranging from bees that pollinate the flowers to deer that graze among the coffee trees.
The cherry is selectively picked by hand. Once picked, ripe, the red cherry is left to dry. The icing is rotated frequently to ensure even drying. It takes about 20-30 days for the cherry to dry.
Don't be fooled by El Salvador's small size. It was once the 4th largest coffee producer in the world and continues to produce high quality batches. The country is known for its great varieties of cupping, such as Bourbon and Pacamara. In fact, two beloved, often high-scoring varieties—Pacas and Pacamara—originate in El Salvador.
Unlike other countries, where specialty coffee production has required a lot of additional investment and training, El Salvador already has a large and skilled specialty coffee workforce. Farming traditions run deep, and many Salvadoran farmers are extremely passionate about coffee production and continually strive to improve their harvest. El Salvador has optimal conditions for processing coffee. The extended dry season usually occurs during the harvest season, which makes it easier to dry the coffee in the sun.
Although coffee production in the country has been in decline for more than two decades – exacerbated by the CLR crisis – the approach to coffee production has shifted from a volume-driven to a quality-driven approach . A new generation of coffee growers has sprung up across the country with a new vision and approach to production. Many of this generation are experimenting with processing and varietals.
| | |
| --- | --- |
| Tasting note | In the espresso, the notes of red fruits with a wine liqueur dominate. |
| Aromas | Red fruits |
| Roasting | Amber - Expresso and filter |
| Strength | 6 |
| Acidity | 2/5 |
| Origin | Salvador |
| Production region | Sonsonate |
| Coffee plantation | Finca Las Mañanitas |
| Coffee farmer | Caceres family |
| Altitude | 1,300 m |
| Area of the farm | 10 hectares |
| Composition | 100% Arabica |
| Variety | Bourbon |
| Process | Natural |
| Score | 85.5+ |
| Conditioning | 250G |
| Roasted for | Expresso and filter |
| Made in | Switzerland |