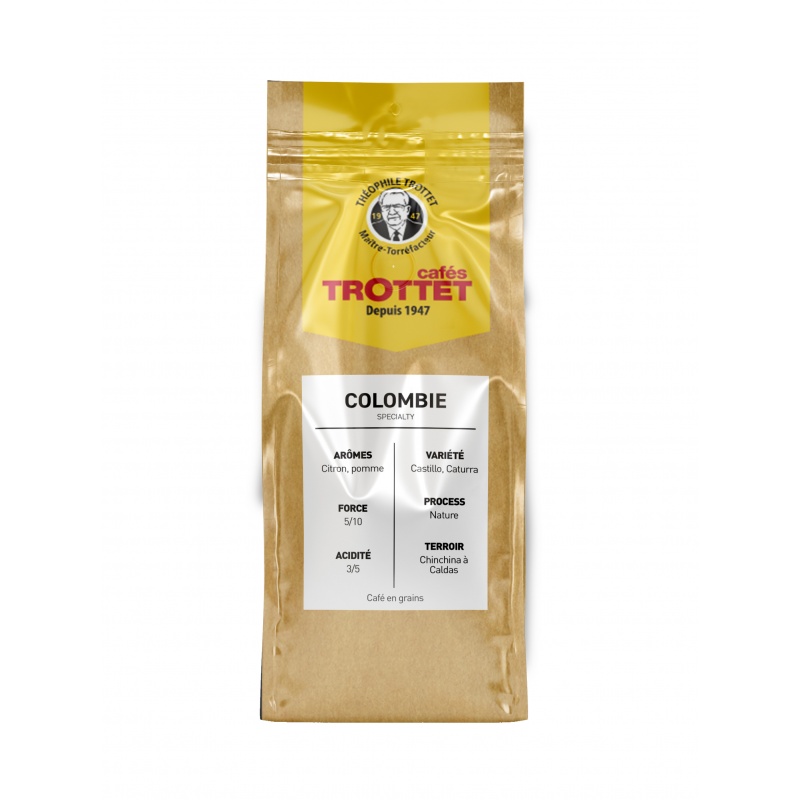  
Colombie El Jardin 250G
Immersion in the heart of the El Jardin farm, at Elmer and Juan's
Aromas of lemon, apple

Force 5/10

100% Castillo Arabica

Cultivated by Elmer and Juan Restrepo
Elmer and Juan Felipe are redefining coffee production in Caldas with a focus on innovatively processed specialty coffee and good quality commercial production.
Elmer & Juan Felipe Restrepo, the father and son team behind Finca Jardin & Finca Chambacu, are rethinking coffee production in Chinchina. The Chinchina Hills, Caldas, Colombia's third-largest coffee producer after Pitalito in Huila and Planadas in Tolima, are home to larger estates that focus primarily on high-volume, commercial-grade production. Elmer and Juan Felipe are redefining their coffee production with a hybrid approach.
As they continue to dedicate part of their farm to commercial production, they are increasingly expanding their specialty offerings and experimenting with new and varied processing styles.
Juan Felipe took the helm of the specialist aspect of the operation. He was a passionate experimenter, developing countless processing protocols to enable him to bring out the best in coffees from their 4 specialty plots - El Placer, Jardin 1, Jardin 2 and Chambacu.
Elmer and Juan Felipe employ 12 year-round workers who do selective hand picking during harvest and help with farm maintenance during the off-season. This team is paid as a bonus for their expertise in selective picking and their full-time job allows them to maintain a stable income throughout the year.
After selective picking and visual sorting, Juan Felipe lightly ferments the cherry for 8 to 48 hours. Then the cherry is placed in thin layers in solar dryers for about 5 days. The drying icing is raked frequently to ensure even drying. Then the drying is completed in a vertical mechanical dryer where the temperature is carefully monitored to ensure that it remains below 45 degrees Celsius.
Parts of Caldas are located in Eje Cafetero, the Colombian axis of coffee culture. Eje Cafetero was the first major coffee producing region in Colombia. For many years, the region has held the distinction of being Colombia's best-known and most sought-after coffee region. The tropical rainforest conditions, volcanic soil and a multitude of rivers and streams in Eje Cafetero make the region ideal for growing coffee, and Manizales is located in the heart of the Caldas department in Eje Cafetero.
Today, producers in Caldas are increasingly focusing on the production of high quality coffee. These growers have become common and well-known enough to earn a familiar and affectionate name in the region. They are called juiciosos (literally: sane/wise), which in this case means hard work and attention to detail. In addition to finding ways to perfect existing processing methods, juiciosos are experimenting with new processing methods and planting new varieties of coffee.
| | |
| --- | --- |
| Tasting note | Length in the mouth and lively flavor in espresso |
| Roasting | Amber - Expresso and filter |
| Strength | 5 |
| Acidity | 3/5 |
| Origin | Colombia |
| Production region | Caldas |
| Coffee plantation | Finca Jardin & Finca Chambacu |
| Coffee farmer | Elmer & Juan Felipe Restrepo |
| Altitude | 1200 m |
| Composition | 100% Arabica |
| Variety | Castillo, Caturra |
| Process | Natural |
| Score | 85+ |
| Conditioning | 250G |
| Roasted for | Expresso and filter |
| Character | Lively |
| Made in | Switzerland |