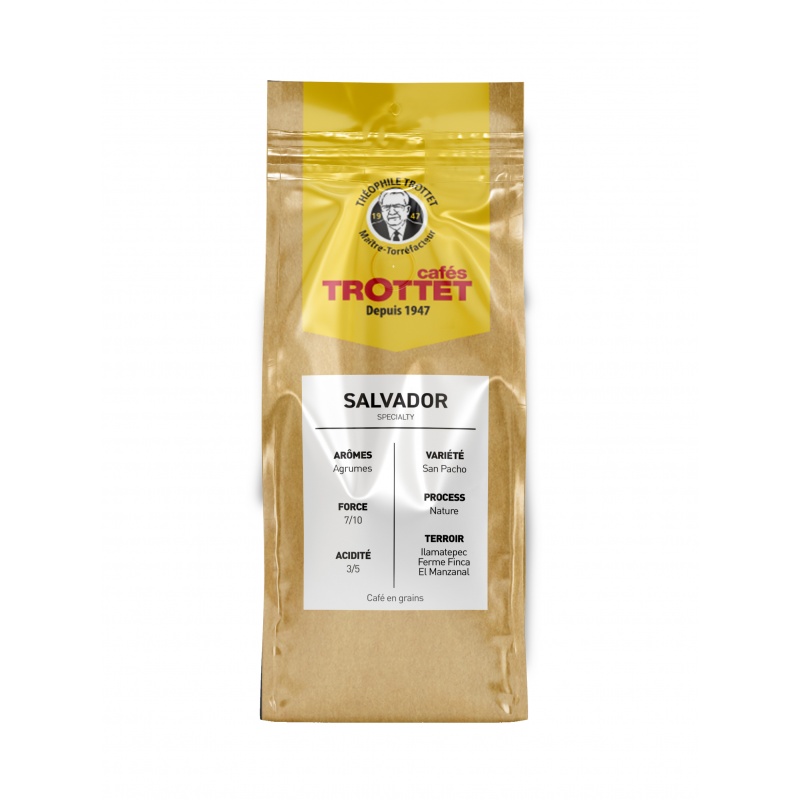  
Salvador Finca El Manzanal 250G
A detour to the heart of Finca El Manzanal
Citrus aromas

Strength 7/10

100% San Pacho Arabica

Cultivated by Jose Enrique
We taste blood orange fudge and chocolate covered cherries in this sweet and juicy batch from Jose Enrique Gutierrez at Finca El Mananzal. 120 hours of anaerobic fermentation bring out the fruitiness while slow, thoughtful drying on raised boards concentrates the sugars and sweet notes.
Jose Enrique Gutierrez named his farmhouse Finca El Manzanal after the tree that abounds on the plot. The manzanos tree provides shade for the coffee trees and acts as a windbreak, especially during flowering when the flowers must remain on the tree for the cherry to grow.
In 2010, Jose Enrique adopted regenerative agriculture practices. He owns a group of farms in the municipality of Ahuachapan. His family used to grow coffee in the eastern region of El Salvador but left due to low coffee prices and a civil war in the 1980s. Nevertheless, coffee is Jose Enrique's passion and when he bought his first closed in 2007, he did it with a specialized mindset.
Jose Enrique mixes traditional agronomic knowledge with his own ideas for more sustainable practices. The specialized industry provided him with a stable price which, together with its quality production, enabled him to increase his land and buy additional farms. Today, all of his farms, including El Manzanal, San Jose, El Limo, Las Brisas, El Horno and Los Cocos, focus on specialty production.
This batch consists of Orange San Pacho. San Pacho is a dwarf variety from Colombia. The name comes from the Spanish word "pacho" which means "shallow". Most San Pacho are red in color, but the plants at Jose's neighboring farm, El Limo, had an orange tint. Intrigued by the color change, Jose propagated these trees and planted them at Finca El Manzanal. One of the main characteristics of San Pacho is its high productivity, especially for such a small tree. The same team picks this cherry every year. They had to learn to tell the difference between ripe and unripe cherries because the color difference is less obvious with the orange cherry. However, after a lot of hard work, they are experts at picking only ripe cherries.
A dedicated team of skilled pickers handpick the ripe cherries and deliver them to the on-site wet mill. The cherry is placed in biodegradable bags and sealed to ferment anaerobically for 120 hours. After fermentation, the cherry is placed on raised beds to dry. The icing is raked frequently to ensure even drying. It takes about 28-31 days for the cherry to dry.
| | |
| --- | --- |
| Tasting note | Explosion of flavors in espresso |
| Aromas | Citrus aromas |
| Roasting | Amber - Expresso and filter |
| Strength | 7 |
| Acidity | 3/5 |
| Origin | Salvador |
| Production region | Apaneca-Ilamatepec |
| Coffee plantation | Finca El Manzanal |
| Coffee farmer | Jose Enrique Gutierrez |
| Altitude | 1200 m |
| Area of the farm | 10 hectares |
| Composition | 100% Arabica |
| Variety | San Pacho |
| Process | Natural |
| Score | 84+ |
| Conditioning | 250G |
| Roasted for | Expresso and filter |
| Character | Fruity |
| Made in | Switzerland |