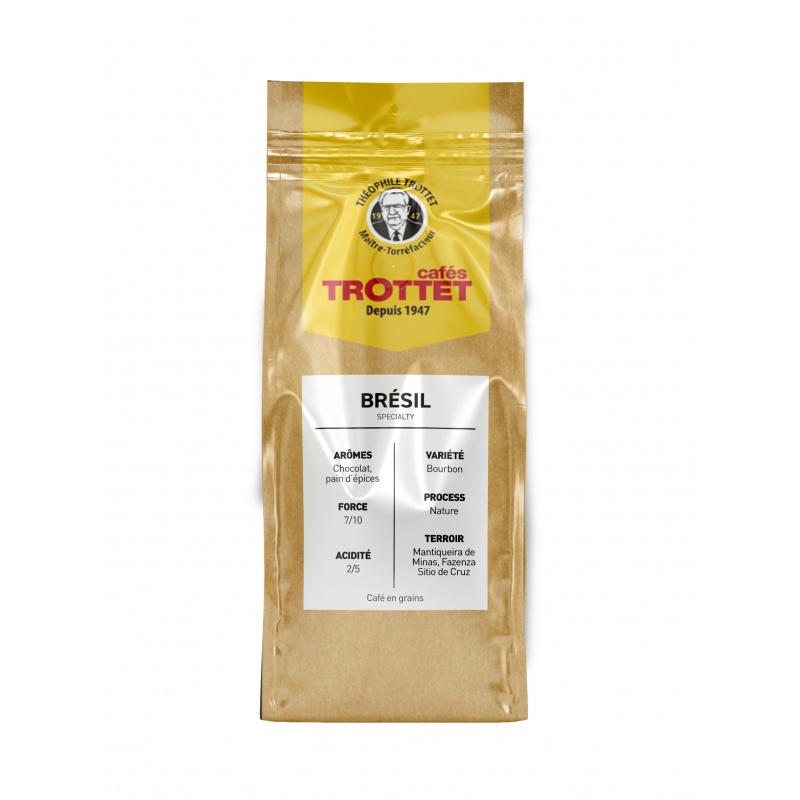  
Brésil Sitio Do Cruz Bourbon 250G
A Bourbon from the high regions of Brazil
Aromas of chocolate, gingerbread

Force 7/10

100% Bourbon Arabica

Cultivated by Rogerio Rodrigues
Under the watchful eye of Rogerio Rodrigues Pereira, the café flourished at Fazenda Sitio do Cruz. Son Natural is juicy with ripe stone fruits, milk chocolate and tropical fruits.
Rogerio Rodrigues Pereira acquired Fazenda Sitio do Cruz in the 1970s. He started as a dairy farmer but in 2010/2011 he decided to reduce dairy production and focus on coffee production. Since then, he has increased the acreage planted with coffee by 30% each year, until coffee is a significant part of the farm.
Rogerio employs agricultural engineers to help him determine the best application of inputs and other cultivation techniques for his soil.
The coffee is picked manually with a derriçadeira - a sort of mechanized rake that uses vibrations to harvest the ripe cherries. A tarp is stretched between the coffee trees to capture the cherry as it falls and only the ripe red cherry is selected.
Once picked, the cherries are placed on a concrete patio at various times. The icing is raked frequently to ensure even drying. After the cherry has dried significantly, the coffee is routed to mechanical driers to finish drying evenly. Finally, the cherry is rested in crates for 15 days. In total, the cherry takes about 30 days to dry.
| | |
| --- | --- |
| Tasting note | Delicate chocolate scent at the start and finish. |
| Aromas | Chocolate, Gingerbread |
| Roasting | Amber - Expresso and filter |
| Strength | 7 |
| Acidity | 2/5 |
| Origin | Brazil |
| Production region | Mantiqueira de Minas |
| Coffee plantation | Sitio Do Cruz |
| Altitude | 900 - 1200m |
| Area of the farm | 93 hectares |
| Composition | 100% Arabica |
| Variety | Bourbon |
| Process | Natural |
| Score | 84+ |
| Conditioning | 250G |
| Roasted for | Expresso and filter |
| Character | Gourmet |
| Made in | Switzerland |