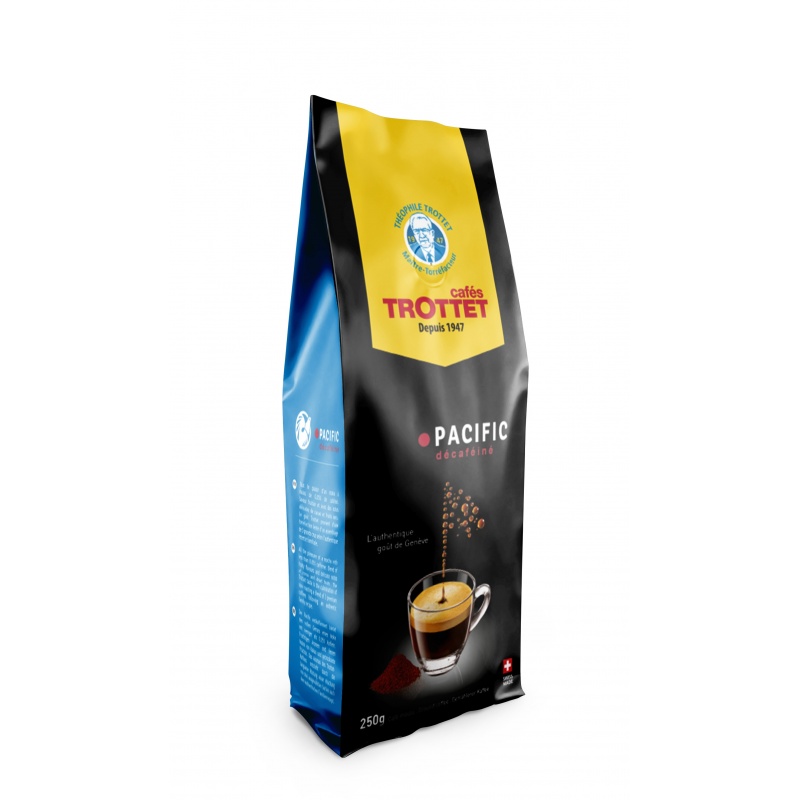  
Pacific ground decaffeinated 250G
Aromas of cocoa, dried fruits

90% Arabica, 10% Robusta

Strength 3/10

Mixture from Honduras, Nicaragua, Vietnam
Pacific ground coffee, also known as decaffeinated coffee, is made from the best arabicas and robustas without caffeine. We roast our blend with our ancestral, traditional and artisanal know-how, in an Italian way at our workshop in Geneva. Robusta and Arabica unite to form the finest decaffeinated aromas, with aromatic power from Honduras and Nicaragua, and a delicate touch of robusta from Vietnam. Our decaffeinated ground coffee offers beautiful taste notes of cocoa, toasted cereals, or toast, which makes it a smooth and balanced preparation.
| | |
| --- | --- |
| Tasting note | L'idéal d'un café à moins de 0.05% de caféine |
| Aromas | Cocoa, dried fruits |
| Roasting | Very light Light Blonde Amber Brown Italian |
| Strength | 3 |
| Acidity | 1/5 |
| Origin | Honduras Nicaragua Vietnam |
| Altitude | 600m - 1800m |
| Composition | 90% Arabica - 10% Robusta |
| Coffee grinding | Espresso |
| Features | Décaféiné |
| Conditioning | 250G |
| Made in | Switzerland |
By
Guillaume R.
on 13 Apr. 2021
(

Pacific ground decaffeinated 250G

)
:
Très bon déca, avec du corp et peu d'acidité
Excellent pour les fins de journée, en moulu dans ma Jura.
Je suis en principe pas fan du déca, mais celui-ci me convient très bien, et garde de bon arômes de café, légère amertume et une belle mousse qui dure dans la tasse.
By
Stéphane E.
on 05 Jan. 2021
(

Pacific ground decaffeinated 250G

)
:
Bonne amertume et super goût.
Pratique avec l'abo pour ma cafetière qui comporte un compartiment pour dose unique en plus du moulin pour le café caféiné.
By
Steffen K.
on 16 Oct. 2020
(

Pacific ground decaffeinated 250G

)
:
SteffenKübler
J'utilise ce déca en poudre avec notre machine Jura (de la maison Trottet) pour complémenter le café en grains, ce qui permets d'avoir les deux à disposition selon le gout, l'heure ou les désires des invités. Trouver un bon déca est très difficile, voici un très bon que j'aime beaucoup !