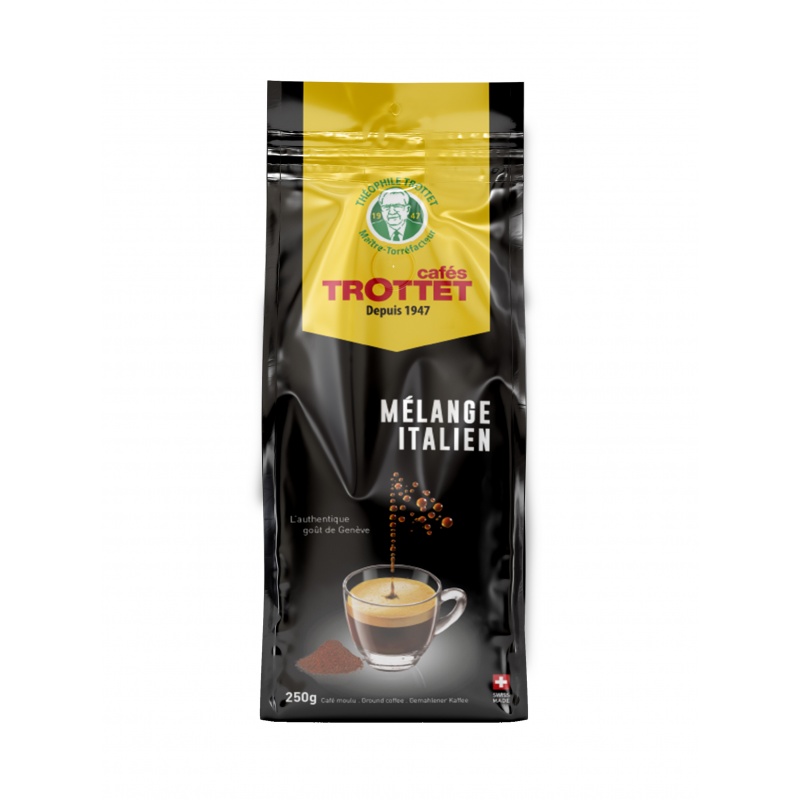  
The Italian Blend coffee is a flagship and ancestral blend of our House. This is the second blend created by Théophile Trottet, in the 1940s. Specially designed for its strength and character, the Italian Blend coffee is carefully composed of beans from Brazil, Colombia, Nicaragua with a touch of India Robusta. The Italian Blend is aptly named for its pure character, strength and full-bodied aromas every taste, every cup. This blend is carefully mixed, regularly tasted by our master roaster in order to maintain a harmonious and unique character in each preparation.
Let yourself be carried away by a full-bodied blend of arabicas and robustas, underlined by the suave character of Ethiopia, which brings freshness, sweetness and aromas. The Italian blend is read through a cup of character, accompanied by aromas of dried fruits and spices. 80% Arabica and 20% Robusta coffee, it is delicious for all types of preparation, especially in espresso.
| | |
| --- | --- |
| Tasting note | Intense and powerful, this blend subtly combines pure arabicas of different origins for a full-bodied Italian coffee, enhanced by a slight bitterness. |
| Character | greedy |
| Aromas | Dried fruits, spices |
| Roasting | Blond - Expresso and filter |
| Strength | 4 |
| Acidity | 2/5 |
| Origin | Brazil Colombia India Nicaragua |
| Composition | 80% Arabica, 20% Robusta |
| Coffee grinding | Espresso |
| Conditioning | 250G |
| Made in | Switzerland |
By
Ivan D.
on 01 March 2021
(

Italian Blend Ground Coffee 250G

)
:
Utilisé pour la cafetière italienne
Très bon café.
By
Ronnie J.
on 21 Nov. 2020
(

Italian Blend Ground Coffee 250G

)
:
By
Marc R.
on 29 Nov. 2018
(

Italian Blend Ground Coffee 250G

)
:
MarcRoulin
Très bon café mais un peu trop acide pour nous.