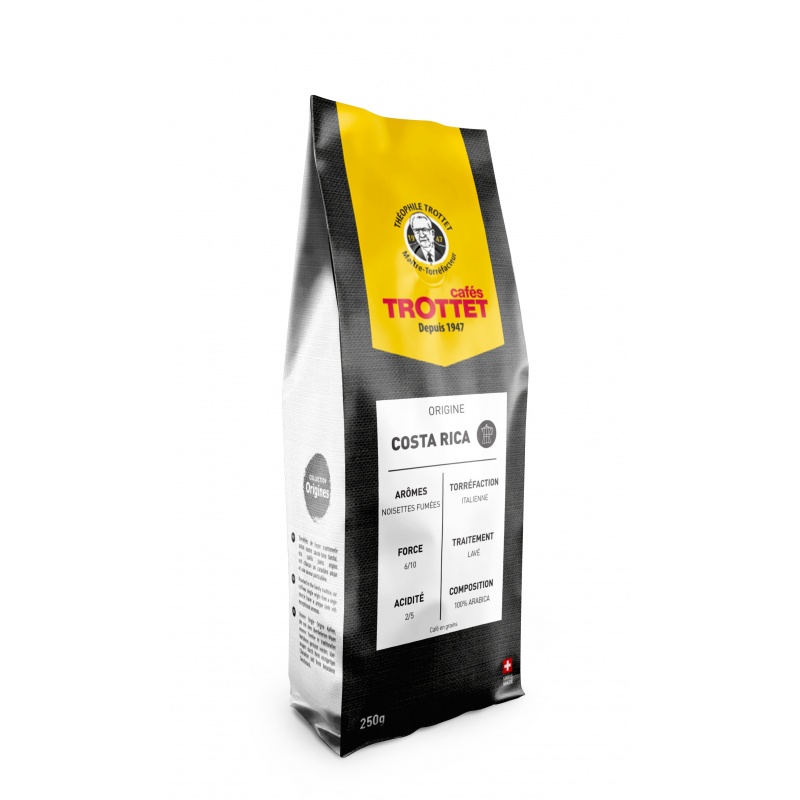  
Costa Rica Italian Roasting 250G
Smoked hazelnut aromas

100% Arabica

Strength 6/10
Rio Jorco is a company that produces, processes and exports the coffees it produces. Over the years, it has also convinced neighboring farms to work for quality, in order to offer their coffees in microlots, with very good results by the cup.
The Rio Jorco farm has been in the same family for three generations and is dedicated to producing the highest quality Tarrazú coffees (coffees produced at high altitude and under shade), while helping to maintain an ecological balance.
Rio Jorco's motto "quality with passion" aptly describes their attention to detail in their production process, in their processing plant and in the selection of coffee. We started our partnership with Rio Jorco by purchasing their plantation coffee. This year, we are also offering you several of their microlots.
Special features of the plant
Harvests have been manual and selective for many years (December to February), processing infrastructure has been improved in order to preserve natural resources.
After pulping, the recovery basins were multiplied to promote the creation and traceability of micro batches according to the location of the coffee trees and the time of harvest. The drying areas have also been enlarged to improve drying and better control fermentation. The treatment plant is a highly ecological unit: the treatment water is recycled, the pulping used as a natural fertilizer and the fuel for the mechanical units comes from the recycling of fallen trees in the forest.
Los Encinos is a farm owned by Eduardo Navarro Ceciliano. This 4 hectare plot is located at 1550-1650m and is made up of a blend of catuaí and caturra. The cherries are dried on African beds, 100% in the sun. Italian roasting improves the body for a great Italian coffee, softening the acidity for a coffee worthy of a barista espresso.
| | |
| --- | --- |
| Tasting note | Café gourmand idéal pour un espresso |
| Character | Gourmand |
| Aromas | Smoked hazelnuts |
| Roasting | Very light Light Blonde Amber Brown Italian |
| Strength | 6 |
| Acidity | 2/5 |
| Origin | Costa Rica |
| Composition | 100% Arabica |
| Conditioning | 250G |
| Made in | Switzerland |
By
Charles M.
on 09 July 2021
(

Costa Rica Italian Roasting 250G

)
:
By
Joseph W.
on 23 Feb. 2021
(

Costa Rica Italian Roasting 250G

)
:
Costa Rica Torréfaction Italienne
Excellent café que je recommande les yeux fermés. N'hésitez pas cela en vaut la peine.
By
Cyril T.
on 27 Jan. 2021
(

Costa Rica Italian Roasting 250G

)
:
Paupau
Très bon et doux, pas d'acidité.