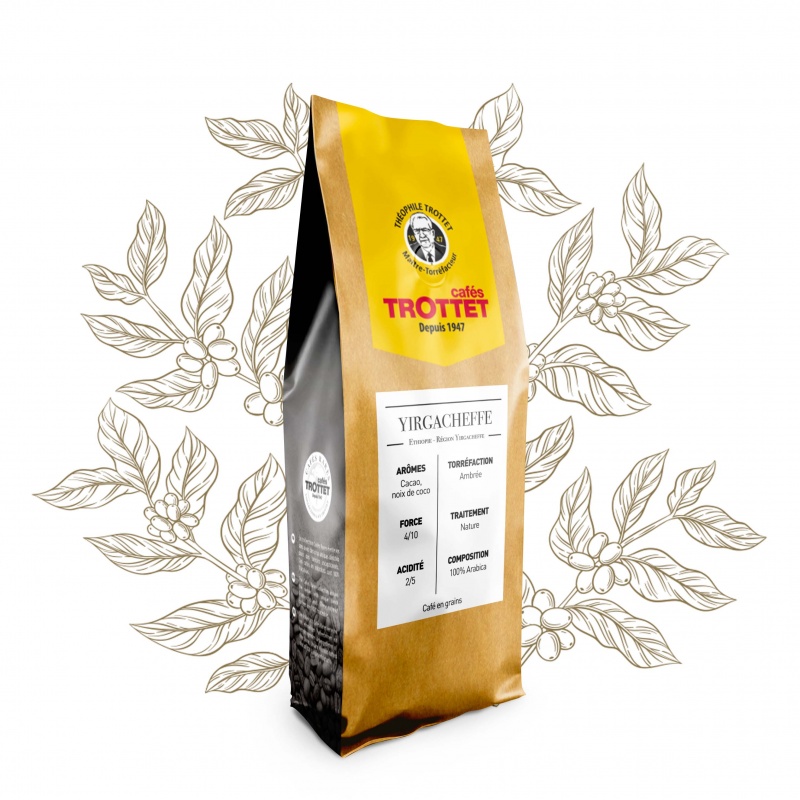  
Ethiopia Yirgacheffe 250G
Aromas of cocoa, coconut

100% Arabica

Strength 4/10

Score 85+
Ethiopia Yirgacheffe, taste the Ethiopian exception.
Yirgacheffe coffees from Ethiopia are mainly known to be exceptions in the mouth. They are fruity and very tasty. The aromas are often the same: rose, tropical fruit and caramel. The texture during tasting is very silky, non-aggressive for the palate. Beautiful notes of cocoa, pineapple and passion fruit are felt on the finish. A very pleasant coffee.
Yirgacheffe coffee is classified in the gourmet and fruity aromatic repertoire, because of its beautiful aromas of coconut. The coffee is processed naturally, which allows a coffee with a generous and powerful body, which reveals all the tastes of the soil. It is in the heart of the Gedeo region that several producers come together and bring their coffee to process. The Gedeo region is found at more than 2,000 meters above sea level, mainly processing the Heirloom variety.
What is specialty coffee?
Specialty coffee is a top-of-the-range coffee known as "rare", with unique characteristics in the world. It is cultivated in the highest altitudes of the world, in family plantations whose objective is the superior quality, signed by a manual harvest in order to guarantee the perfection of the grain. The terroir coffees are carefully sourced for the care taken by the producer, a superior manual and selective harvest, full traceability, a cultivation method and a respected and controlled treatment process.
 What is the Score?
The Specialty Coffee Association (SCA) defines a high standard coffee analysis procedure to assess all the specifics of specialty coffee. SCA determines the value of odor, aroma, body, acidity, possible defects. A coffee is rated on a scale of 100, and must obtain a minimum score of 80 points to be able to be determined as "specialty coffee".
Specialty coffee score classes
Ø  80+: very good coffees
Ø  85+: The excellence of the specialty
 88+: The Grand Cru, the Rare
| | |
| --- | --- |
| Aromas | Cacao, noix de coco |
| Roasting | Very light Light Blonde Amber Brown Italian |
| Strength | 4 |
| Acidity | 2/5 |
| Origin | Ethiopia |
| Production region | Yirgacheffe |
| Coffee plantation | Gedeo, Yirgacheffe |
| Coffee farmer | Several producers |
| Altitude | 2000 m |
| Composition | 100% Arabica |
| Variety | Heirloom |
| Score | 85+ |
| Conditioning | 250G |
| Made in | Switzerland |