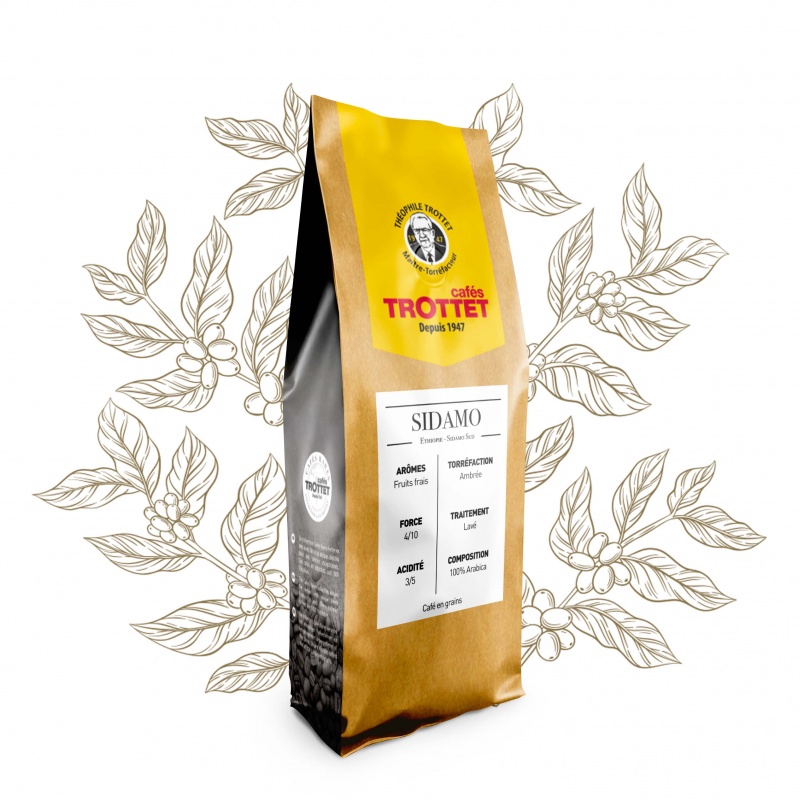  
Ethiopia Sidamo South 250G
Fresh fruit aromas

100% Arabica

Strength 4/10

Score 84+
Ethiopia Sidamo coffee beans, our favorite specialty coffee.
Ethiopian cafes have always won our hearts. Perhaps this is due to the fact that it is the birthplace of coffee? This is the country where the whole history of coffee began. In the heart of Sidamo a fruit tree grows in the highlands of Ethiopia. The coffee is so delicious that it offers exceptional fruit notes, thus varying with the beautiful aromas of tea and peach. Thanks to the washed treatment, the coffee is noted as very light with floral notes during tasting. The main aromas deciphered in this coffee are floral, bergamot and chocolate. The intense and complex acidity offers a soft and pleasant finality. It is in the south of the country that several small producers meet, in the heart of Sidamo, to bring their bags of green coffee. The producers are divided in the region between 1,750 and 2,200 meters above sea level on flat land in the heart of the Ethiopian mountains. The soil is a "nitisol" type, which means that it is weakly active and highly structured. The temperature and climatic conditions vary between 10 and 32 ° C, which allows the coffee to develop in a complex way.
What is specialty coffee?
Specialty coffee is a top-of-the-range coffee known as "rare", with unique characteristics in the world. It is cultivated in the highest altitudes of the world, in family plantations whose objective is the superior quality, signed by a manual harvest in order to guarantee the perfection of the grain. The terroir coffees are carefully sourced for the care taken by the producer, a superior manual and selective harvest, full traceability, a cultivation method and a respected and controlled treatment process.
 What is the Score?
The Specialty Coffee Association (SCA) defines a high standard coffee analysis procedure to assess all the specifics of specialty coffee. SCA determines the value of odor, aroma, body, acidity, possible defects. A coffee is rated on a scale of 100, and must obtain a minimum score of 80 points to be able to be determined as "specialty coffee".
Specialty coffee score classes
Ø  80+: very good coffees
Ø  85+: The excellence of the specialty
 88+: The Grand Cru, the Rare
| | |
| --- | --- |
| Aromas | Fruits frais |
| Roasting | Very light Light Blonde Amber Brown Italian |
| Strength | 4 |
| Acidity | 3/5 |
| Origin | Ethiopia |
| Production region | Sidamo |
| Coffee plantation | Cooperative of several producers in Sidamo |
| Coffee farmer | several producers |
| Altitude | 1750-2200 m |
| Type of soil | nitisol |
| Composition | 100% Arabica |
| Treatment | Washed |
| Score | 84+ |
| Conditioning | 250G |
| Made in | Switzerland |