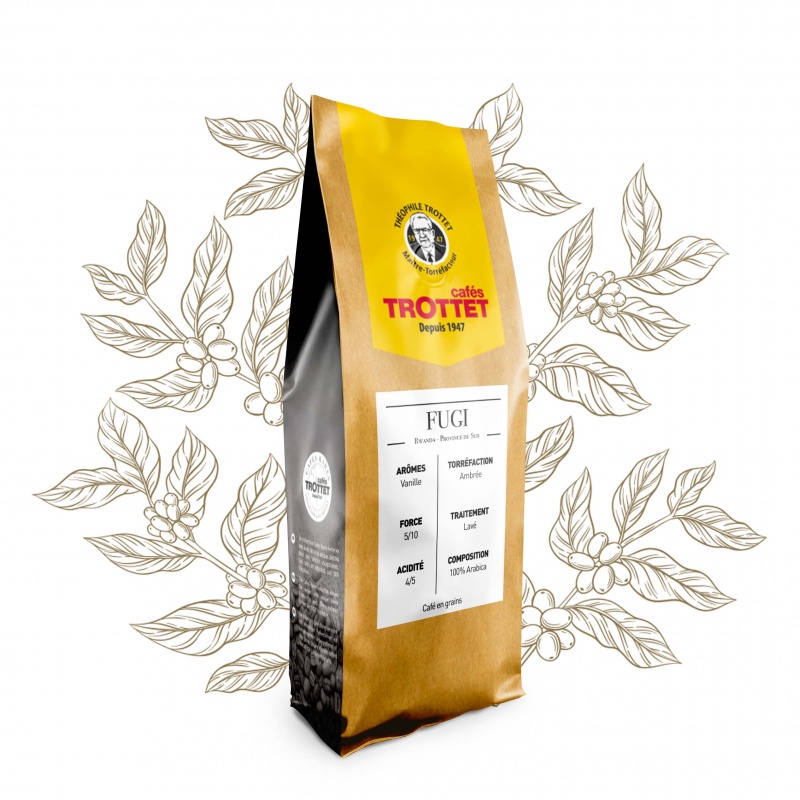  
Rwanda Fugi Station 250G
Vanilla aromas

100% Arabica

Strength 5/10

Score 84+
Fugi, Rwanda
In Fugi in Rwanda, the coffee beans are washed and treated with special attention, everything is in the details. The grains offer an exceptional and sweet taste, with exceptional notes of orange and vanilla. The quality of the coffee produced is fully washed bourbon. It is at the heart of the FUJI cooperative that dozens of families meet to share the same passion: coffee. The Fuji station puts its interests at the heart of the population, since it itself supplies the water, the station and the equipment that follows to maintain the coffee. Nothing is left to chance. Bourbon red is produced a few meters from Fuji station, more than 1,550 meters above sea level, sometimes as high as 1,850 meters. An exceptional local coffee. The owner is Café Baho which is located in the Nyaraguru department. This department is located in the heart of the Southern Province, where the farm is located with its 250 coffee trees.
What is specialty coffee?
Specialty coffee is a top-of-the-range coffee known as "rare", with unique characteristics in the world. It is cultivated in the highest altitudes of the world, in family plantations whose objective is the superior quality, signed by a manual harvest in order to guarantee the perfection of the grain. The terroir coffees are carefully sourced for the care taken by the producer, a superior manual and selective harvest, full traceability, a cultivation method and a respected and controlled treatment process.
 What is the Score?
The Specialty Coffee Association (SCA) defines a high standard coffee analysis procedure to assess all the specifics of specialty coffee. SCA determines the value of odor, aroma, body, acidity, possible defects. A coffee is rated on a scale of 100, and must obtain a minimum score of 80 points to be able to be determined as "specialty coffee".
Specialty coffee score classes
Ø  80+: very good coffees
Ø  85+: The excellence of the specialty
 88+: The Grand Cru, the Rare
| | |
| --- | --- |
| Aromas | Vanilla |
| Roasting | Very light Light Blonde Amber Brown Italian |
| Strength | 5 |
| Acidity | 4/5 |
| Origin | Rwanda |
| Production region | Nyaruguru, Province du Sud |
| Coffee plantation | Station de lavage FUGI |
| Coffee farmer | Café Baho |
| Altitude | 1550 - 1850 m |
| Area of the farm | 25 ha |
| Composition | 100% Arabica |
| Variety | Bourbon |
| Treatment | Washed |
| Score | 84+ |
| Conditioning | 250G |
| Made in | Switzerland |