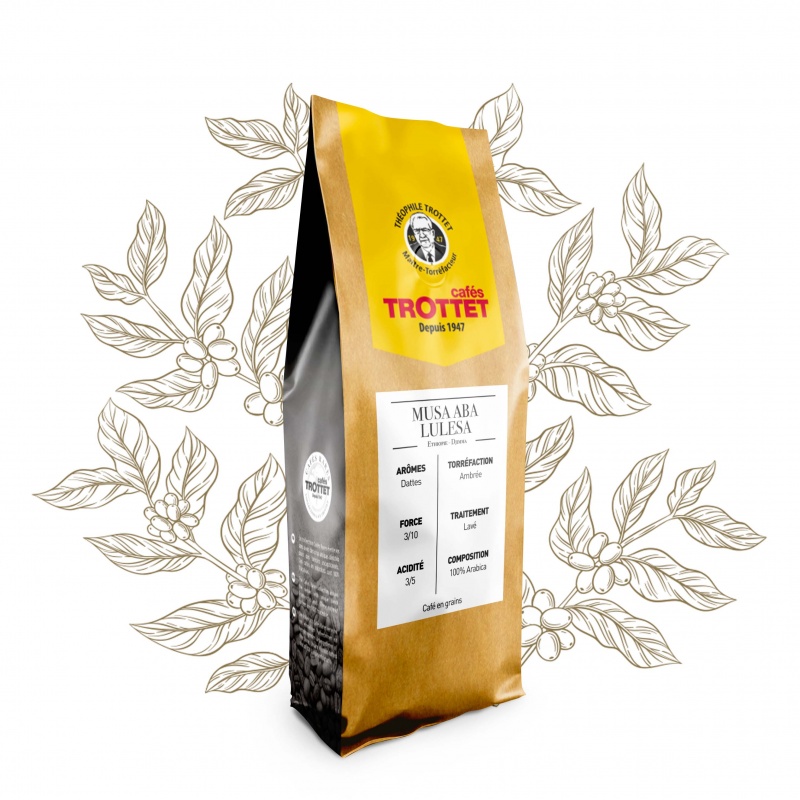  
Ethiopia Limu Musa Aba Lulesa 250G
Aromas of dates

100% Arabica

Strength 3/10

Score 86+
Ethiopia, at Musa Aba Lulesa
Go to the heart of Ethiopia, the birthplace of coffee, at Musa Aba Lulesa which is a form of cooperative, firm, and owned. Full Washed quality, Ethiopia's exceptional coffee is of the JARC variety, a special variety that only Ethiopia knows. It is in a washed treatment that care is taken around the grain. Production takes place at over 2,000 meters above sea level at Musa Aba Lulesa. Musa Aba Lulesa is in Agaro City, Funtule Kebele, Goma District. It is in the heart of the Djimma region that Musa produces its most beautiful cherries. The size of his farm is 40 hectares. Musa initially sold its coffee through resellers. This method was expensive for him, since he did not get a decent income. With his family, he decided to make an effort to become independent. He understood that running his own farm was better for him financially. Not only does he grow coffee, but he also sets up his own washing stations and African beds to dry the coffee. When his father was in the coffee business, he owned 80 hectares. Seeing potential at Musa, he offered him 2 hectares to start in the business. Now Musa takes care of exporting its own coffee to the world. It is for this reason that the farm is not only a farm, but a cooperative and a plantation, not to mention the treatment station.
What is specialty coffee?
Specialty coffee is a top-of-the-range coffee known as "rare", with unique characteristics in the world. It is cultivated in the highest altitudes of the world, in family plantations whose objective is the superior quality, signed by a manual harvest in order to guarantee the perfection of the grain. The terroir coffees are carefully sourced for the care taken by the producer, a superior manual and selective harvest, full traceability, a cultivation method and a respected and controlled treatment process.
 What is the Score?
The Specialty Coffee Association (SCA) defines a high standard coffee analysis procedure to assess all the specifics of specialty coffee. SCA determines the value of odor, aroma, body, acidity, possible defects. A coffee is rated on a scale of 100, and must obtain a minimum score of 80 points to be able to be determined as "specialty coffee".
Specialty coffee score classes
Ø  80+: very good coffees
Ø  85+: The excellence of the specialty
 88+: The Grand Cru, the Rare
| | |
| --- | --- |
| Aromas | Dates |
| Roasting | Very light Light Blonde Amber Brown Italian |
| Strength | 3 |
| Acidity | 3/5 |
| Origin | Ethiopia |
| Production region | Djimma, Agaro Ville, Funtule Kebele |
| Coffee plantation | Musa Aba Lulesa |
| Coffee farmer | Musa Aba Lulesa |
| Altitude | 2000 - 2150 m |
| Area of the farm | 44 ha |
| Composition | 100% Arabica |
| Variety | JARC |
| Treatment | Washed |
| Score | 86+ |
| Conditioning | 250G |
| Made in | Switzerland |