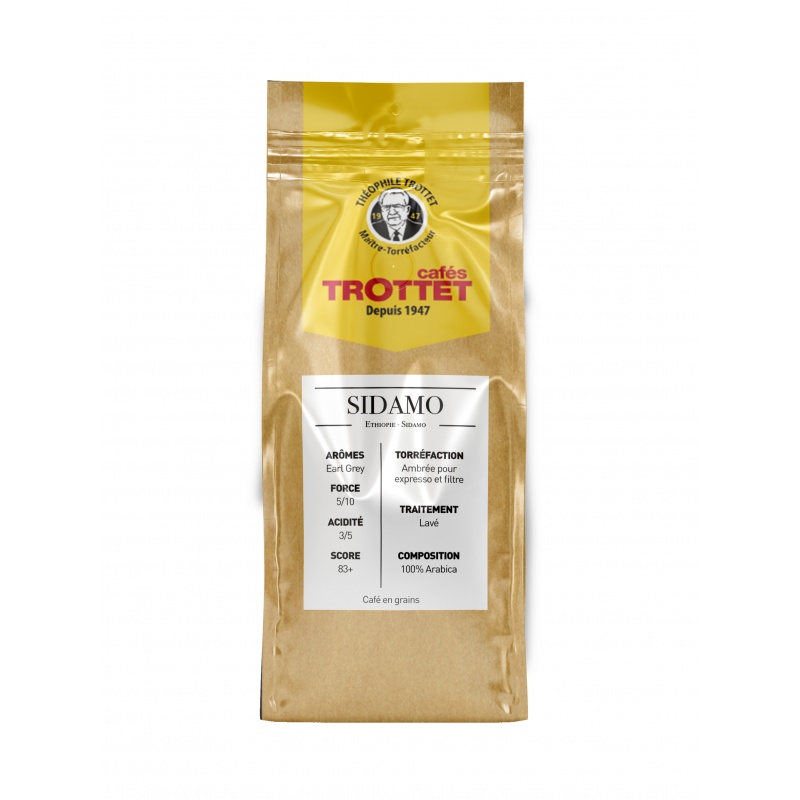  
Ethiopia Sidamo 250G
Aromas of Earl Gray

100% Arabica

Strength 5/10

Score 83+

Roasted for expresso and filter
Sidamo's coffee is considered one of the best coffees in the world. Raison ? Ethiopia is the cradle and origin of the coffee bean. Everything suggests that the first plants were discovered 800 years BC, around the region of Sidamo. Today, coffee is Ethiopia's main export product globally, but half of the coffee grown is consumed locally. Raison ? Coffee breaks are rituals and must be prepared according to a strict cultural process.
Sidamo is a region in southern Ethiopia made up of fertile land. Its abundant rainfall and optimal climate provide ideal growing conditions. The Sidamo region is located at altitude, which makes the grains dense and complex: even better.
Founded in 2001, the SCFCU, Sidama Coffee Cooperative Union, representing the union of 50 first-level cooperatives with nearly 100,000 coffee growers, makes it possible to collect and identify coffee batches with precision and transparency. This union of cooperatives also acts in favor of the children of farmers, by financing many social projects on site (scholarships, warehouses for coffee, power lines for the movement of communities, etc.).
| | |
| --- | --- |
| Aromas | Earl Grey |
| Roasting | Amber - Expresso and filter |
| Strength | 5 |
| Acidity | 3/5 |
| Production region | Sidamo |
| Coffee plantation | Station where producers gather |
| Coffee farmer | Several producers |
| Altitude | 1'500-2'200 m |
| Area of the farm | about 5 ha per family |
| Composition | 100% Arabica |
| Variety | Local Landraces |
| Process | Washed |
| Score | 83+ |
| Conditioning | 250G |
| Preparation methods | Espresso: 7 to 8g of coffee Filter: 30 to 50g of coffee |
| Made in | Switzerland |