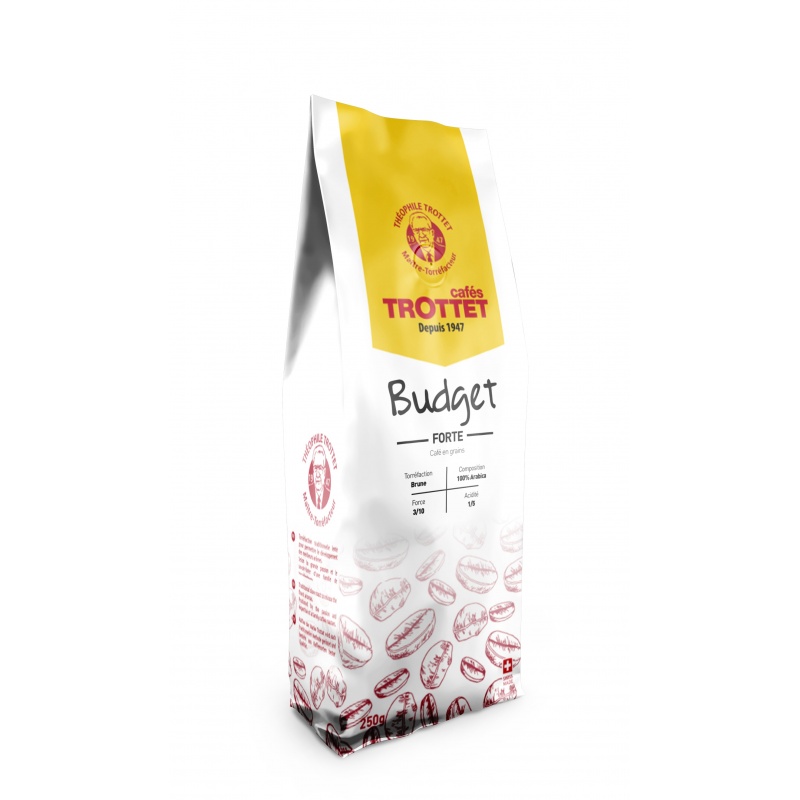  
Coffeebeans Budget Forte 250G
Up to 30 low-cost products: A range from a single coffee that was Eccellenza Espresso to 50 capsules, we have added other low-cost products such as No. 7 and its derivatives, with the new Budget Forte and Budget Gold products.
An unbeatable price on the Swiss coffee market: The capsule starts at 11 cents. By choosing the box of 50 capsules compatible Nespresso®* Eccellenza Espresso, the capsule costs you 11 cents, thus being the cheapest capsule coffee on the Swiss market.
100% Geneva and Swiss products: roasting, packaging and packaging at home. No outsourcing, no intermediary: everything is done at home, a few steps from your home. You are a company, contact us to plan a group visit within our roasting workshop?
Product variants for each type of consumption: The little extra of our coffee range? We have Nespresso®* compatible capsules, coffee in kilo, coffee 250G grains, boxes of 10 capsules like boxes of 50 capsules ... We have a wide selection of coffee in the budget range, at low prices, not to mention the 44mm ESE pods for percolator machines or Caps System, Lavazza Espresso Point®* compatible capsules, also part of the Budget range, bearing the names Budget Forte and Gold.
Products also 100% Arabica: Most of them are Blends, we also wanted to have a budget product 100% Arabica. We opted for the No. 7 Cremosso in 10 capsules, 50 capsules or 250G grains.
| | |
| --- | --- |
| Aromas | Sweet apple |
| Roasting | Very light Light Blonde Amber Brown Italian |
| Strength | 3 |
| Acidity | 1/5 |
| Origin | Brazil Ethiopia Honduras |
| Altitude | 600 à 1600 m |
| Composition | 100% Arabica |
| Conditioning | 250G |