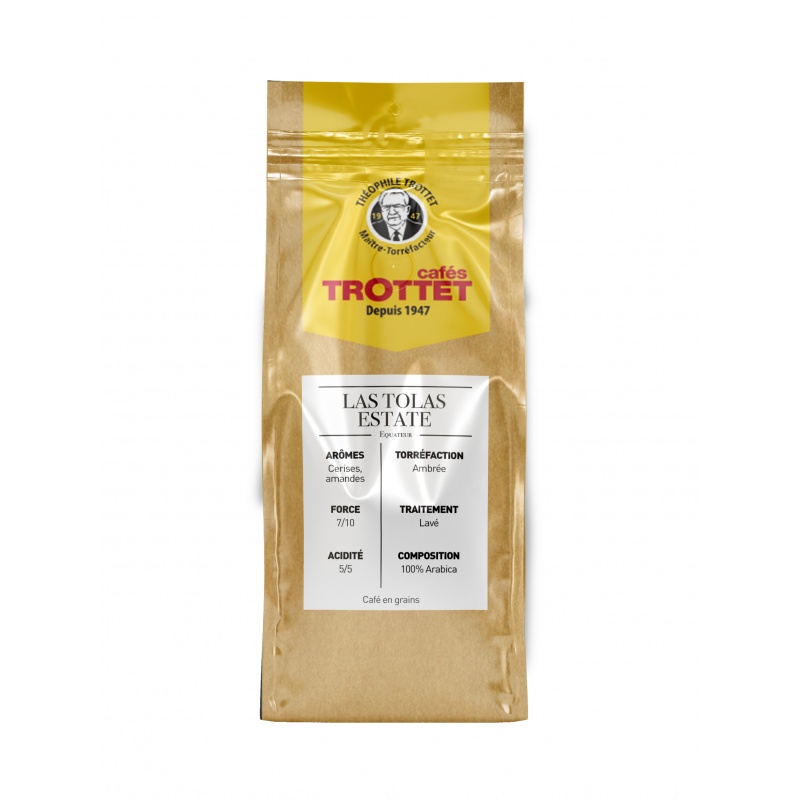  
Ecuador Pichincha 250G
Citrus aromas

100% Arabica

Strength 5/10

Score 86+

Light roasted for filter
In the heart of the Andean Chocó, one of the 7 "hot spots" of biodiversity on the planet, the Las Tolas plantation is the realization of a project built with passion and in the search for excellence. Located on the Andean foothills at an altitude of 1700m, the plantation has been managed since 2004 by Arnaud Causse. He planted coffee trees outside of traditional production areas, the land of which enjoys a unique environment.
Grown on deep soil whose composition has been enriched by volcanic eruptions, several varieties of coffee trees are present:
A 6 hectare plot made up of Pacamara and Bourbon.
A 4 hectare plot planted only with Bourbon.
A 12 hectare plot made up of a blend of varieties of coffee trees such as Caturra, Catuai, Galapagos, Kenya, Java.
Under the shade of the trade winds, banana and mango trees, the cherries ripen slowly and in the best conditions in order to enhance the aromatic potential after roasting. The plantation also provides habitat for a large number of animals. Each year, at harvest time, the inhabitants of the plantation come to pick the most beautiful cherries with the greatest care.
The cherries are then placed in water baths to extract the coffee beans. After this first step, the "parchment" coffees are immersed in water to ensure fermentation. After fermentation, the parches are dried in a natural way, that is to say under the sun of the day. This step also preserves the maintenance of the aromatic quality.
| | |
| --- | --- |
| Character | Vif |
| Aromas | Citrus |
| Roasting | Very Light Roast - Filter |
| Strength | 5 |
| Acidity | 3/5 |
| Origin | Ecuador |
| Production region | Pichincha |
| Coffee plantation | Las Tolas Estate |
| Coffee farmer | Arnaud Causse |
| Altitude | 1700m |
| Composition | 100% Arabica |
| Process | Washed |
| Grade | Specialty |
| Score | 86+ |
| Conditioning | 250G |
| Preparation methods | Filter: 30 to 50g of coffee |
| Made in | Switzerland |