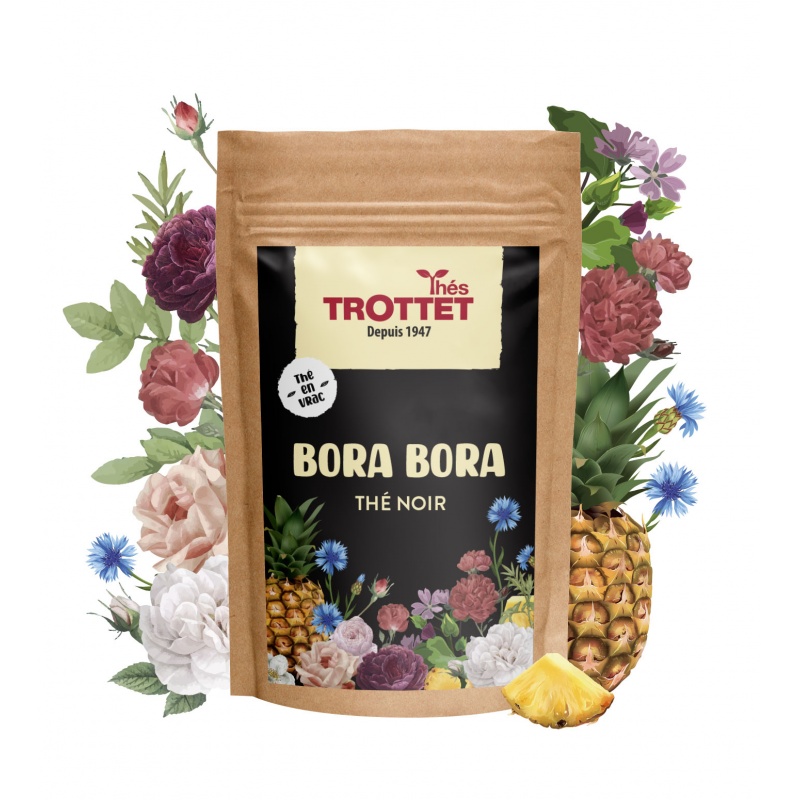  
Bora Bora 70G
Black tea

Fruity and floral aromas

Composed of black tea, rose petal and peony, aromas and mallow flowers

70G size
This delicious blend of black tea with rose petals and peony offers all the flavors you need to travel to the South Pacific. This exotic blend of floral notes and intense fruity pineapple flavor is the perfect tea to accompany you every day.
Suggested preparation
Weigh a small teaspoon of Bora Bora tea, for 5 minutes of infusion and 95°C in temperature.
| | |
| --- | --- |
| Weight | 70G |
| Aromas | Fruity, floral, pineapple |
| Tea type | Thé noir |
| Preparation temperature | 95°C |
| Volume préparation | 250ml |
| Astuce de préparation | 1 teaspoon of tea for 250ml of water |
| Tea class | Flavored tea |
| Flavored teas | Gluttony |
| Ingredients | Black tea, rose and peony petals, mallow flowers and aromas |
| What time of day | All day long |