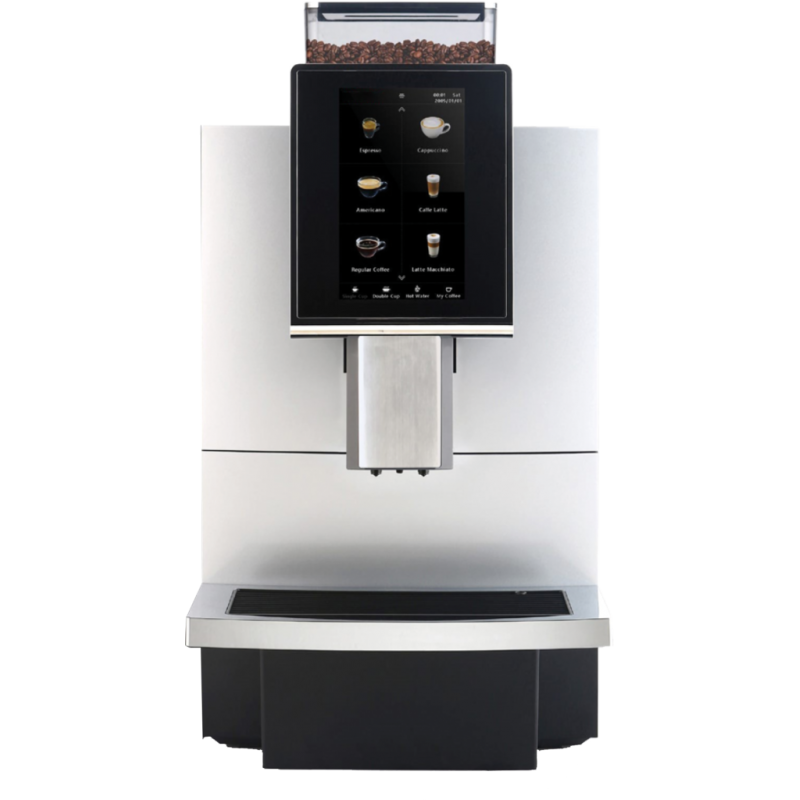  
Dr. Coffee T12
Professional coffee machine

1.3 kg grain bin

2L or 8L water tank optional

Up to 100 coffees per day

Connection to water network optional
Discover the world of professional coffee with the Dr. Coffee T12 coffee machine, a high-performance professional coffee machine that guarantees quality and aromas in each preparation. It allows you to prepare many espresso or latte drinks, with a large preparation capacity of up to 100 coffees per day. The Dr. Coffee T12 coffee machine produces low noise with great energy saving. You benefit from a wide choice of coffee selections ranging from espresso, double espresso, ristretto, americano, ground coffee, café latte, cappuccino or even hot water. The machine allows you to use more than a liter of hot water per hour.
Technical capacity of the Dr. Coffee T12:
• Coffee bean container capacity: 1.2 kg
• Recommended daily volume: 100 cups
• Espresso (50 ml): 70 single outlets/h - 50 double outlets/h
• American (240ml): 50 single exits/h - 35 double exits/h
• Cappuccino (240 ml): 50 single outlets/h - 50 double outlets/h
• Hot water output per hour: 15 L
• Water tank capacity: 2 L (or 8 L optional)
• Fresh milk outlet
• Grounds container capacity: approx. 70 Pcs (Base on 8g/Pcs)
Reactive after-sales service: Our solutions
By opting for the "Café Confort" contract (coffee machine counter taken as proof), the Customer benefits from the following advantages:
Coffee: Regular and fast delivery of coffees within 24 hours
Breakdown: In the event of a breakdown, replacement of the coffee machine within 24 hours
Warranty: Depending on warranty, repair and quote (see FAQ on www.trottet.ch)
Logistics for after-sales service:
Two practical solutions are available to the Customer:
Free of charge: The Customer drops off the machine for after-sales service at our workshop in Meyrin and picks up the machine on loan. Upon repair, the Customer recovers their coffee machine by returning the machine on loan.
Comfort Plus: The Company collects the machine from after-sales service in exchange for the coffee machine on loan at the rate of CHF 149.- excluding tax/travel to Geneva-La Côte. For other regions, please send us a request.
Settings and functions
| | |
| --- | --- |
| Capacity | To 100 coffees/day |
| Water tank capacity | 2L or 8L optional / Hot water: 15L/hour |
| Coffee Beans Capacity | 1.2kg |
| Capacity of coffee grounds container | 70 x |
| Number of selections | 24 customizable drinks |
| Functions | Adjustable amount of water Adjustable intensity Grounded coffee Hot water Integrated maintenance program Programmable shutdown time |
Specifications
| | |
| --- | --- |
| Height | 58cm |
| Width | 30cm |
| Depth | 50cm |
| Weight | 15.5kg |
| Voltage | 220/240 V - 50/60 Hz - 1500/1700 W |
Others
Options
Direct water connection
Milk
Tea/Infusion
Screen
Intuitive touch
Type of grain mill
Ceramic grinding wheels
GIFT
Pack PRO 🎁