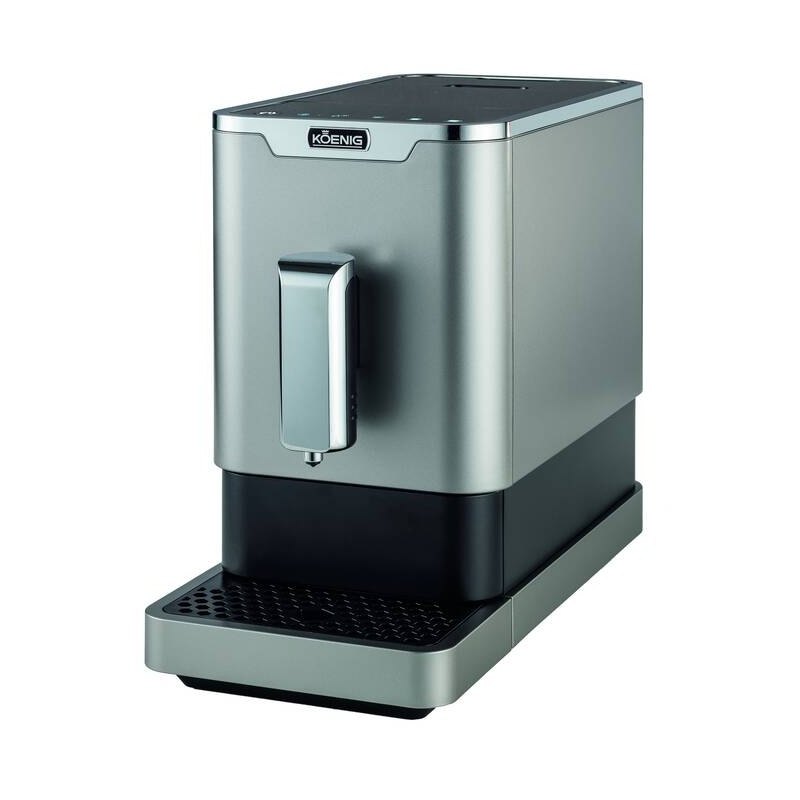  
Koenig Finessa
by KOENIG
Automatic coffee machine

150G bean tank

1.2L water tank

Up to 10 coffees per day
The Koenig Finessa automatic bean-to-cup coffee machine is a sophisticated device designed to deliver an exceptional coffee experience at home or in the office. It is equipped with advanced features that allow you to quickly prepare espresso or lungo coffee, or even hot water for tea.
One of the most notable benefits of this coffee machine is its ability to use fresh coffee beans rather than ground coffee. This results in a richer, more complex flavor, as well as a fresher, more aromatic cup of coffee. The coffee machine is equipped with a stainless steel bean grinder that can be adjusted to grind the coffee beans to the desired fineness, allowing the taste and strength of the drink to be personalized.
The Koenig Finessa also has a pre-infusion system, which moistens the ground coffee before extraction, allowing the aromas and flavors to be released more evenly. This technique improves the quality of the cup of coffee by giving it a richer and more complex flavor. It also has a thermoblock heating system, which guarantees a constant water temperature for optimal coffee extraction. It also has an automatic milk system to prepare milk-based drinks, such as cappuccinos and latte macchiatos. The milk system is easily removable for easy cleaning.
The Koenig Finessa coffee machine is equipped with an intuitive and easy-to-use touch screen, which allows drinks to be personalized according to the preferences of each user. It also has a programming function to prepare the favorite drink with just one click.
Settings and functions
| | |
| --- | --- |
| Water tank capacity | 1.2L |
| Coffee Beans Capacity | 150G |
| Number of selections | 1 expresso, 1 lungo, hot water |
| Type of model | Finessa B03900 |
Specifications
| | |
| --- | --- |
| Height | 31.5 cm |
| Width | 18 cm |
| Depth | 39.5 cm |
| Weight | 8.2 kg |
| Power | 1470 W |
Others
| | |
| --- | --- |
| Screen | Tactile |
| High efficiency pump | 19 bars |