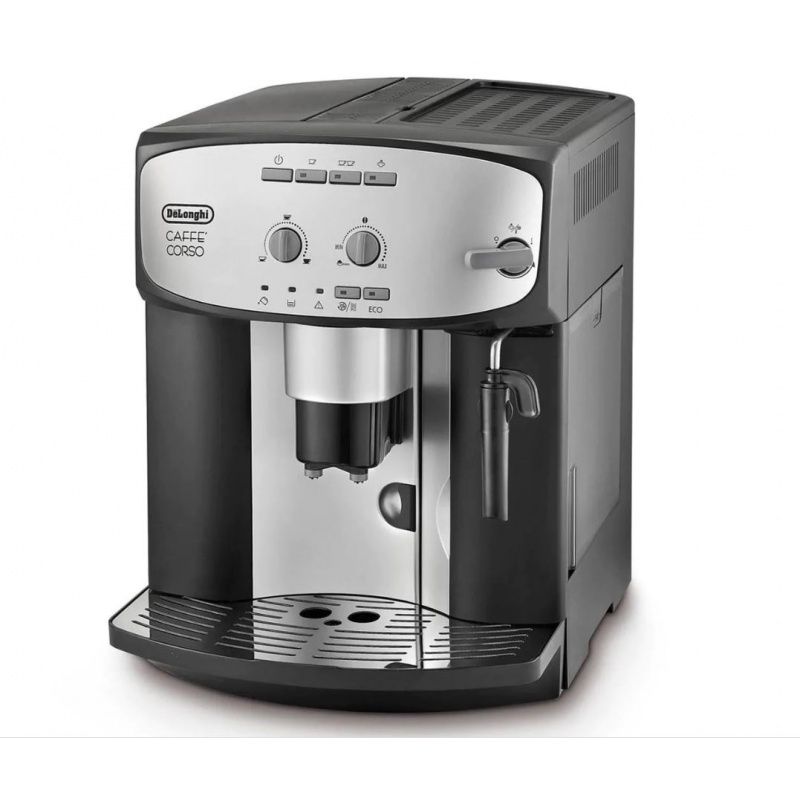  
Delonghi ESAM 2800.SB
by De'Longhi
Delonghi ESAM 2800.SB, a 100% automatic and reliable coffee machine!
Discover a coffee machine from the range of products from the Delonghi brand. Discover all its functions that remind you of good coffee. The Delonghi ESAM 2800.SB machine offers you up to 15 coffees per day in terms of portions. It has a water tank of 1.8 liters of water. Its grain bin is rather large; it can accommodate 200 grams of coffee beans. You also have the "ground coffee" option for decaffeinated portions.
The mac tray is 14 pancakes. You have a coffee machine that makes your coffee moment very comfortable with its large containers. The coffee machine has 3 selections on the front of the screen. You can select the coffee of your choice by turning the crank: ristretto coffee, espresso, lungo coffee.
Thanks to the options on the front of the machine, you can manage the intensity of your coffee yourself by playing with the beans. Within the bean hopper, you also have the option of playing on the intensity of the grind (the finesse). The finer it is, the more robust your coffee can be.
The top of your machine can accommodate your cups in order to heat them and keep them at the correct temperature. The brew unit is removable and allows you to clean it with water monthly to avoid fattening your coffee machine. This extends its lifespan. The water hardness is also programmable. The mill is rather silent with 13 different levels.
Settings and functions
| | |
| --- | --- |
| Portions/day | Up to 15 |
| Tank | 1.8L |
| Beans tray | 200G |
| Waste container | 14 |
| Number of selections | 3 |
| Functions | Adjustable intensity Grounded coffee Integrated maintenance program Programmable shutdown time |
Specifications
| | |
| --- | --- |
| Height | 36 cm |
| Width | 28.5 cm |
| Depth | 38.5 cm |
| Weight | 10 kg |
| Power | 1450 |
| Voltage | 220/240 ~ 50/60 |